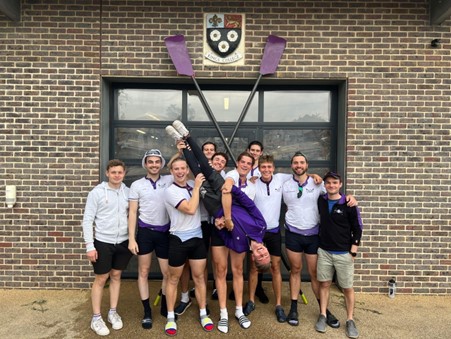 The annual May Bumps provided excitement for all four King's boats, with the Men's 1st Boat finishing in 8th position on the river, the highest a King's boat has been since 1924.
Men's Captain Oscar Wilson summarised the week: 
Men's First Boat
"After a first day bump for M1 over Trinity, day 2 saw us starting behind Clare M1. The last time we were in this position in 2013 we managed to get within half a length of Clare, but never managed to bump them. The same happened the following year, after which we took a tumble down the division as Clare began to climb. Now once again behind Clare, we fought valiantly, but were not able to make the bump on day 2 and rowed over. 
On day 3 however, something miraculous happened. Clare decided to hunt down Emmanuel M1 ahead of them, making it all the way to overlap coming onto Ditton corner, and putting three lengths between King's and Clare. But it's not over until the bump is made, and after slightly crashing into the corner and losing their composure Clare began to falter. By the railway bridge, we had closed the gap between us to one length, and in the next 100m we took this gap down to a half-length, quarter-length – and gave them a hefty bump less than 500m from the finish! It is one of the most exciting Bumps races in recent history, and someone on the bank even managed to film the whole thing (King's from 6.45). It is definitely worth a watch!  
On the final day, we started behind Emmanuel, and knowing Clare would be keen to reclaim their position prepared for a tough race ahead. They had managed to push us to three lengths on Friday, and we were not keen to give up our position as 8th on the river – which we haven't occupied since 1924 and from what I've gathered is the second highest we have ever been. And we did not disappoint, keeping Clare at bay behind the full course of the race, and even getting within one length on Emmanuel in front before they bumped Downing coming onto the Reach. Overall, M1 rose two positions to 8th in the first division, a result which is really testament to the incredible work the boys have been putting in this term. 
Men's Second Boat
For M2, an equally awesome week was had. After a disappointing first day narrowly missing a bump on First and Third, M2 came back fighting and effortlessly bumped on Thursday, Friday, and Saturday, to go up 3 overall. They also had an equally interesting Friday row against Clare, after a bad start left them with their bows stuck in the bank almost immediately. Wolfson behind managed to get up to overlap with Kings M2 by the time they had removed themselves from the verge, and all was looking dire. But the boys didn't give in, pushing away from Wolfson and regaining their composure to make up the missing distance and still bump Clare ahead of them! Another incredible result."