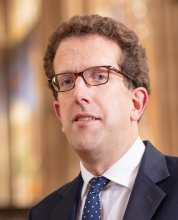 Director of Music
Daniel Hyde is a versatile musician: a world-class conductor and organist, a natural leader and a broad-minded academic. Daniel has held the prestigious post of Director of Music at King's College, Cambridge since October 2019. As part of this role Daniel is responsible for one of the world's most renowned choirs; working with the choristers and scholars of the Choir of King's College, Cambridge is a nurturing and inspirational role, well-suited to Daniel as a world-class choral trainer.
Born in the UK, schooled as a chorister at Durham Cathedral, he was made a Fellow of the Royal College of Organists at the age of 17 and won the organ scholarship to King's College, Cambridge, later taking up the position of Director of Music at Jesus College, Cambridge. In 2009, he became Informator Choristarum at Magdalen College, Oxford, where he was also an Associate Professor. In 2016 Daniel moved to the USA where he became Organist and Director of Music at Saint Thomas Church, Fifth Avenue, New York City.
As a choral and orchestral conductor, Daniel has worked with many of the world's leading ensembles including the BBC Singers, the London Bach Choir, Britten Sinfonia, the Orchestra of the Age of Enlightenment, the Academy of St Martin in the Fields, the Orchestra of St Luke's and New York Baroque Incorporated.
Daniel's broad-ranging discography can be found on the Opus Arte, Linn, Naxos and EMI and Priory labels, with future releases planned for the King's College label.
A phenomenal organist, Daniel has performed throughout the world giving recitals. He has appeared at the BBC Proms on numerous occasions, and made his solo debut there in 2010, performing Bach's Canonic Variations at the organ of the Royal Albert Hall.
As an ensemble player he has appeared with Phantasm, the Britten Sinfonia, The Tallis Scholars, Aurora Orchestra, Gabrieli Consort and the Academy of St Martin in the Fields, amongst others.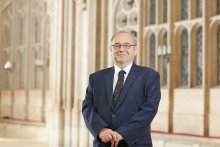 Head of Singing
David Lowe took up the new position of Head of Singing in 2020, working with Daniel Hyde to support the modern, integrated vocal and musical education for both Choristers and Choral Scholars at King's. He is no stranger to Cambridge (Choral Scholar at King's 1976-79) having taught generations of Choral Scholars at King's, St John's, Gonville and Caius, Clare, Trinity and Jesus Colleges since 1991.
Many of his pupils of all voices have advanced to post-graduate study to all the major UK conservatoires. Many are regularly to be heard at Glyndebourne Festival, Royal Opera House, ENO and the Metropolitan Opera in New York.
He has held senior teaching roles at the Royal Academy of Music and Royal Northern College of Music. He was Master of the Music of Norwich Cathedral from 2007-2011.
He specialises in the teaching of all voices but especially during their crucial development over the ages of 18-24. David also has been responsible for the vocal education of the choristers at St John's College for the last 30 years, working alongside Dr Christopher Robinson, Dr David Hill and Andrew Nethsingha. David has traveled extensively giving masterclasses, workshops and lectures around Europe, Scandinavia and the USA.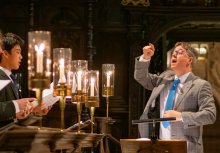 Interim Assistant Director of Music
Ralph Woodward grew up in Durham, and studied Music as Organ Scholar at Queens' College, Cambridge. As well as taking up the post of Interim Assistant Director of Music at King's in 2022, he is also Musical Director of the Fairhaven Singers.
He has played concertos on three instruments, worked in 20 Cambridge College Chapels, 20 UK cathedrals, six US states, and over 25 countries, and conducted the London Mozart Players, City of London Sinfonia, The Parley of Instruments, English Chamber Orchestra, and Britten Sinfonia.
He carries out a wide range of editorial tasks for Oxford University Press and a number of the country's leading composers. His choral arrangements have been performed all round Europe and on Radio 4's PM programme
Past projects have included work with Vladimir Ashkenazy, Emma Johnson, Iestyn Davies and Cradle of Filth, and an appearance on ITV's Grantchester.
In addition to his musical interests, Ralph manages a cricket team, plays badminton enthusiastically, gives presentations on the assassination of JFK, and spends as much time as possible eating and drinking in foreign countries.