Choristers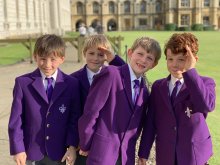 Choristers at King's College have an unbeatable start to life. The chorister experience is probably the best musical education available to boys between the ages of 8 and 13; it also offers the benefits of skills that will last a lifetime.
Performing to a highly professional standard, choristers gain a natural self-confidence, as well as the appreciation of good time-keeping and the rewards that result from hard work and disciplined study, combined with a well-rounded social experience.
King's makes every effort to make choristerships possible for any boy with the right musical ability.
---
First step: contact us
If you would like to find out more about being a Chorister at King's, including auditions, daily routine, or King's College School, please get in touch with Katie Randle or ring the Choir Office at King's on 01223 331224.
We are always pleased to hear from parents who would like to know more about choristerships at any time.
You can find out more about the Choir's activities on our Facebook page, on Instagram and on Twitter.