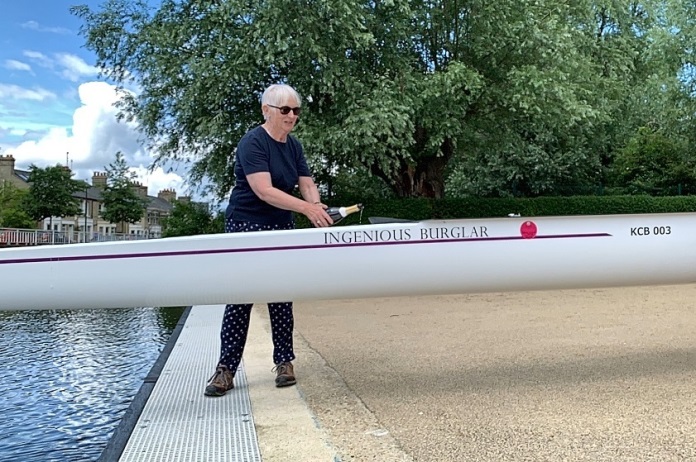 Nearly 50 years after a King's boat was christened "Ingenious Burglar" on the Back Lawn, the Boat Club has held a ceremony to officially dub the new Men's VIII boat with the same name.
The name has been resurrected after a Boat Club member from the early 1970s generously supported the purchase of a new boat, which will give more students the opportunity to try out rowing during their time in Cambridge. The new "Ingenious Burglar" is expected to have a lifespan of up to 20 years and will be passed down through the various crews, so will hopefully be seen on the Cam for many years to come.
The naming ceremony took place at the shared College boathouse, with current Boat Club members able to meet with a handful of alumni who had also attended the naming of the original Ingenious Burglar in 1972. Jane Kingsbury, who poured champagne on the boat at the first ceremony, did the honours again.
The new Ingenious Burglar has already enjoyed tremendous success with King's M1 since its first outing in the 2018 Lent Bumps, bringing them to the top half of the first division and bumping up two positions in the latest May Bumps.
For more news and results from the Boat Club, see the KCBC website here.