Essay Prize Success for King's Chaplain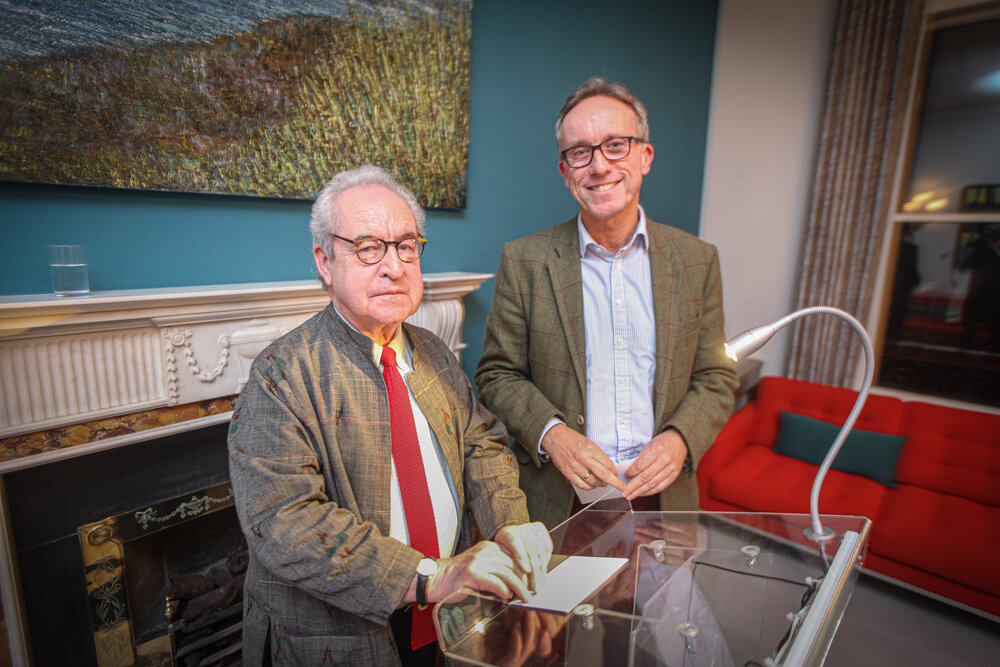 The College Chaplain Andrew Hammond has been awarded the Hubert Butler Essay Prize for his piece entitled 'Where does a citizen of the world belong?' at a ceremony at the Irish Embassy.
The Prize, founded in 2018, is organised by the arts charity HEART London and is intended to encourage the art of essay-writing with a European dimension and to expand interest in Butler's work. It is designed to reflect Butler's interest in the common ground between the European nation states that emerged after the First World War; his concern with the position of religious and ethnic minorities; his life and writings as an encapsulation of the mantra 'Think globally, act locally'; the importance of the individual conscience; and his work with refugees. 
Introducing the prize-winning essay, Professor Nicholas Grene commented:
It is no part of the design of the Hubert Butler Essay Prize to seek imitations of [Butler's] essays; they are in any case inimitable. But it is intended to encourage his sort of vigilant intelligence, the use of the essay to give voice to a sharply distinctive, a nay-saying point of view, where necessary.

Andrew Hammond's winning essay is a fine example of just this. He contends that whatever the ideals or aspirations behind it, the idea of global citizenship is 'naïve', 'impractical', perhaps even 'wrongheaded'. He makes a distinction between what he calls 'good' and 'bad' belonging. The desire for a universal citizenship, he argues, is based on flight from conflicts within individual communities – 'bad belonging' – but they can only be solved within such communities by 'good belonging'. He cites the example of the Northern Irish peace process which worked because people from both sides, without giving up their own culture or beliefs, were willing to reach out to one another. Taking illustrations from situations as disparate as interethnic relations in the late Ottoman Empire and young gay people in 1990s New York, he advances a principle of 'benign pragmatism'. 'Our values may transcend the local', he concludes, 'but living them out is for actual people in actual places'. Hubert Butler would surely have assented.
To find out more about the Hubert Butler Essay Prize please visit the website, where you can also read the full text of Andrew's essay.

About Hubert Butler
Hubert Butler was born into an Irish Protestant family in Kilkenny in 1900. He was educated at Oxford and the School of Slavonic Studies in London, where he mastered Russian and Serbo-Croat. Travelling in Central and Eastern Europe in the 1930s gave him an early awareness of the growth of anti-Semitism, and in 1938 he went to Vienna to help hundreds of Jews escape from Nazi persecution. He returned to Croatia after the Second World War, and discovered evidence of ethnic cleansing of the Orthodox Serbs with the connivance of the Catholic Church - a discovery which made him deeply unpopular with the authorities in Ireland. He and his wife Peggy made his family home, Maidenhall, into a centre of intellectual debate, and founded the Kilkenny Lectures to encourage dialogue between the people of Northern Ireland and the Republic. He finally found recognition as an essayist of international calibre in his eighties, with his collections  Escape from the Anthill, The Children of Drancy and Grandmother and Wolf Tone. He died in 1991.