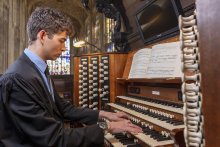 The Organ Scholars at King's are undergraduate students at the College who have a range of roles and responsibilities in assisting the Director of Music. Principally these involve playing for choral services in the Chapel, but the Organ Scholars help too with the training of the choristers and probationers, as well as rehearsing and conducting the full choir from time to time.
Choral services take place six days a week during the eight-week University terms, and the two Organ Scholars share the playing for these services, as well as some of their other duties in assisting the Director of Music. As with the Choral Scholars, the Organ Scholars receive fees for 'extra' performing duties. Additionally, the College pays for lessons in organ playing and improvisation, singing and Alexander Technique, as well as regular programme of masterclasses.
 
---
The Organ Scholars accompany the Choir on its touring programme, which affords the opportunity of playing many interesting instruments across the world. Recent Organ Scholars have played the instruments at the Sydney Opera House, the great organ in Riga Cathedral, the famous Müller organ at St Bavo in Haarlem, the new Mander organ at St Ignatius Loyola, New York City, and the newly restored instrument at the Royal Albert Hall.
The scholarship also provides opportunities for continuo-playing, notably with the Academy of Ancient Music and the Philharmonia Orchestra.
Keyboard Instruments at King's
The organ at King's is a four manual Harrison & Harrison organ, and is essentially the instrument built by Arthur Harrison in the 1930s, alongside his projects at Westminster Abbey and the Royal Albert Hall. Since then only minor tonal alterations have been made, although a number of performance aids have also been added. During the first nine months of 2016 the organ underwent a major restoration.
There is a small chamber organ in the Chapel and a tracker-action instrument (two manuals and pedals) available for practice at the College School. Additionally there is a harpsichord and a number of fine grand pianos available for use in the College. Both Organ Scholars are provided with a piano in their College rooms.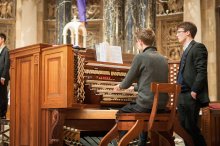 The organ scholarship at King's is an excellent preparation for many different career paths, particularly those in the musical profession. In the field of cathedral and church music, former Organ Scholars currently direct the music at Durham, Gloucester and Norwich Cathedrals, Trinity College Cambridge, Magdalen College and New College Oxford, and the Temple Church in London.
A number, such as Sir Andrew Davis and Richard Farnes, go into conducting careers, while others, such as Simon Preston, Thomas Trotter, David Briggs and David Goode, have forged international careers as solo players. Some of the most recent holders are to be found in assistant positions at Westminster Cathedral and Durham Cathedral.