Organ Scholarships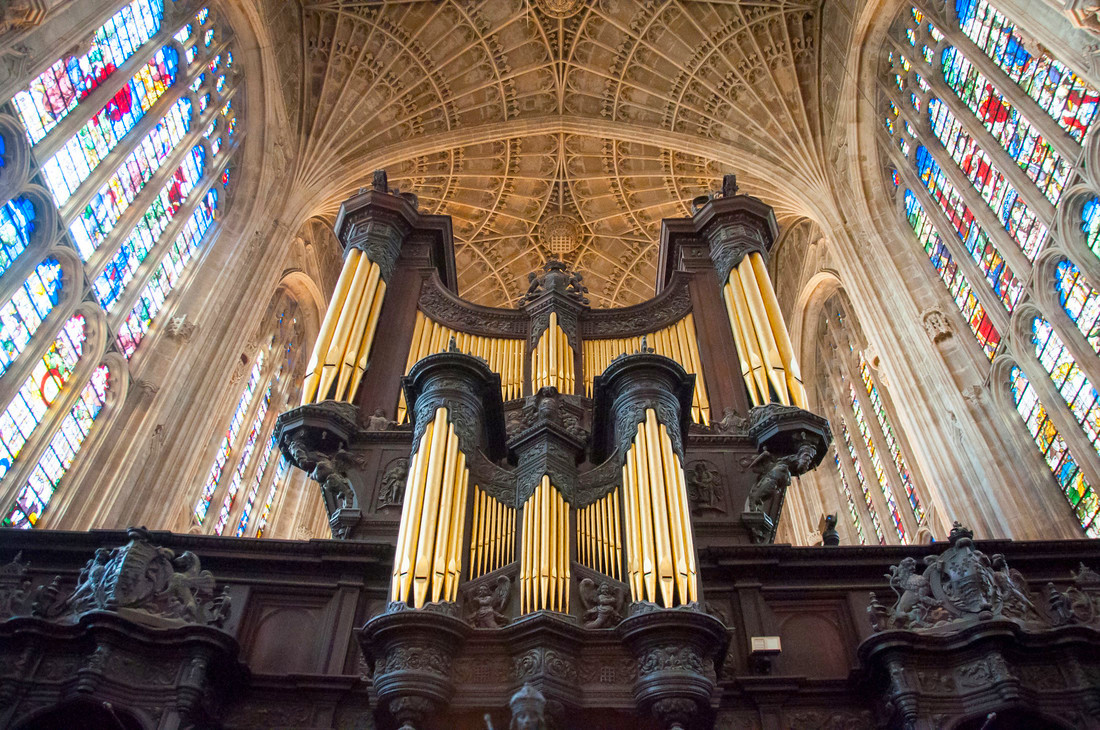 If you are an organist of a high standard and you want to study at King's you may be eligible for a scholarship award. You do not have to study Music to apply for the scholarship; Organ Scholarships can be combined with any subject taught at King's except Medicine and Architecture.
The Director of Music encourages all potential Organ Scholars to come to see him at any time before the auditions. When they visit, he will hear them play, talk to them in detail about the Organ Scholar's life and work, and advise them on how to approach the audition and interview process.
Over and above the Organ Scholarship, the college pays for organ lessons and training in Alexander Technique. It also provides every Scholar with a piano in their room. Of course, your duties as an Organ Scholar are very much in addition to a commitment to the academic subject you are studying. However, King's is a relaxed college and the choir a very friendly group. In balancing music and academic work, the Organ Scholars also enjoy a good social life.

---
Step 1: Check the Organ vacancies page on the University website (link below). At King's we have a vacancy for October 2021 and October 2022 entry.
Step 2: Read the 'Study at King's' and 'Choir' sections of our website thoroughly.
Step 3: By 1 September please submit:
a Cambridge Online Preliminary Application (COPA)

a draft copy of your UCAS personal statement (both by email and as a hard copy)

a transcript if relevant.
A transcript should be submitted by UK students who have not taken six or more GCSEs (or five or more Scottish National Qualifications) in the last three years, and by most international applicants.
Late applications will not be considered. The address to send references to is undergraduate.admissions@kings.cam.ac.uk and the Undergraduate Admissions Office, King's College, Cambridge CB2 1ST. United Kingdom. You must not submit a UCAS form at this stage but please note that you will need a UCAS number (you must have registered with UCAS) to submit the COPA.
Step 4: You will receive an email from King's acknowledging your application shortly after the application deadline, and all candidates will also receive an acknowledgement of their application from the central co-ordinator and some general information by 5 September (this is not an invitation to interviews/trials).
Step 5: By 11 September (at the latest), please submit:
an academic reference and coversheet (both by email and as a hard copy with a signature). If the academic reference can be submitted before 11 September, that would be very helpful where possible. The email address to send these to is undergraduate.admissions@kings.cam.ac.uk and please send the hard copy to the Undergraduate Admissions Office, King's College, Cambridge CB2 1ST. United Kingdom.

a Musical Ability reference and coversheet (both by email and as a hard copy with a signature - see contact details above).
Step 6: In the email from King's, you may be asked to submit the following by 11 September:
Written work & coversheet (depending on your subject).

Disability adjustments form (if you have a disability, Specific Learning Difficulty or long-term illness).

data protection (and UMS if relevant) form.
Step 7: If you are invited for trials and interviews (most candidates are), you will later receive a further letter from King's to give you details of your academic interviews and practical information. Please note that it will take some time for us to organise interviews and write to you. If we are not inviting you for trials and interviews, we will write to you as soon as possible to let you know.
Step 8: Organ trials and academic interviews will take place on Sunday 20 - Wednesday 23 September 2020.
Step 9: Submit a UCAS application by 15 October and follow the process as set out on the 'Application Process' page with regard to the UCAS application and the Supplementary Application Questionnaire (SAQ).
Step 10: Organ candidates will receive the outcome of their application shortly after the organ trials.
As an Organ applicant you have two main points of contact with King's:
1. The Admissions Office
(Telephone 01223 331255; email: undergraduate.admissions@kings.cam.ac.uk)
If your question relates to the application process, filling in forms, deadlines, academic course content and requirements, exam results, Open Days etc. then please contact the Admissions Office directly. Do also ensure that you read the Study at King's section of this website carefully.
2. The Director of Music / The Choir Office
(Telephone: 01223 331 224; email: choir@kings.cam.ac.uk)
If your question requires musical expertise or relates to musical auditions or life and work as an Organ scholar at King's, then please contact The Director of Music, Daniel Hyde, via the Choir Office. Daniel is happy to meet you before you audition (this can be arranged to coincide with King's Open Days or any time you visit if you contact the Choir Office).