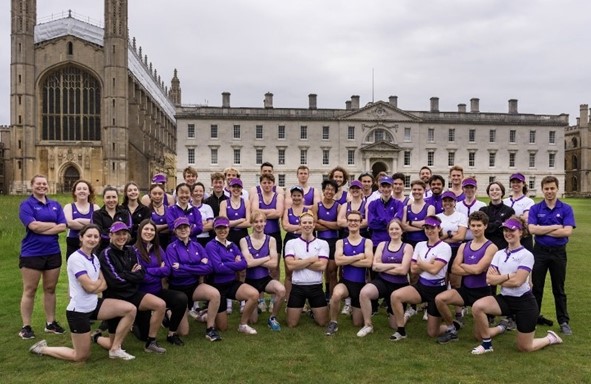 It has been a record-breaking Mays campaign for most KCBC crews, testament to the commitment of dedication of the rowers and their coaches.
There was some tough competition for seats in the M1 race crew, which led to a record-breaking Mays campaign. Starting on station eight, King's chased and bumped Downing on day one and then dispatched of Peterhouse with similar ease on day two. By day three the King's crew were fifth on the river – equalling their record-highest position exactly a century ago, in 1923. But on the final day, after chasing and bumping Emmanuel, the M1 crew got blades and are now fourth on the river, their highest-ever position in Bumps. Stroke-seat of the clean-sweep winning Blue Boat, Luca Ferraro; stroke-seat of the Lightweight Spare Pair Jack Saville; and stroke-seat of last year's Mays M1, Kozzy Voudouris; all came back to row with the Club for the May Bumps.
The women's first crew came into this May's campaign on the back of blades in Lents and having won everything they entered in Easter term. They started in third position of division 2, but went on to bump Peterhouse, Homerton and Girton, securing their return to division 1 for the first time in seven years. Day four was to be the fairytale ending to the campaign and the season: the opportunity to bump Magdalene W1 and become 16th in division 1.  Overall, up four and a second set of blades this season for King's W1. This is the first set of blades the King's women's side has seen in over a decade, and the first set of double Lents and Mays for the first time ever on record.
With the high calibre of rowing across KCBC this year, there was also competition for seats within M2, who managed to go up five positions in division three over the course of the week and secure blades. W2 finished 10th in division 4, but the experience gained has been invaluable and prepared them for next year. M3 also qualified for a place in the May Bumps for the first time since 2015, and an M4 crew including the M1, M2, W1 and W2 coxes took part in the Getting On race, even if they did not manage to qualify for Bumps in the end.
Following Mays, the W1 crew travelled down to Henley for the Henley Royal Regatta qualifiers to row together one last time as a crew and the whole Club came together the day after for a 12-hour ergathon to raise money for the Cambridge Rape Crisis Centre for which we raised over £1000.