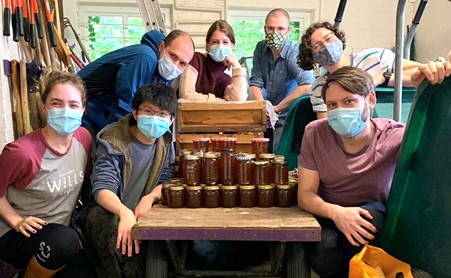 The King's Beekeeping Society have just finished another successful harvest from the College apiary. This year the two hives, both located at the back of Scholars' Piece, have produced 76 jars of honey. According to the outgoing Beekeeping Society President Jerry Tam, while last year's honey was slightly sharp, this year's is mellow – but still of a stronger aroma and taste than any commercial honey. 
The Beekeeping Society is responsible for the upkeep of the hives, and would like to welcome new members from Michaelmas Term, with around 10 people needed every year to help with maintenance and inspections of the hives, in addition to two experienced beekeepers. Ideally a good number of members should be graduate students who remain in College during the summer. One of the advantages of being a member of the Society is keeping some of the jars and sampling this very special honey!
To join the King's Beekeeping Society next term or for more information, please contact their new President and 'Queen Bee' Tomas Deingruber at td363@cam.ac.uk.