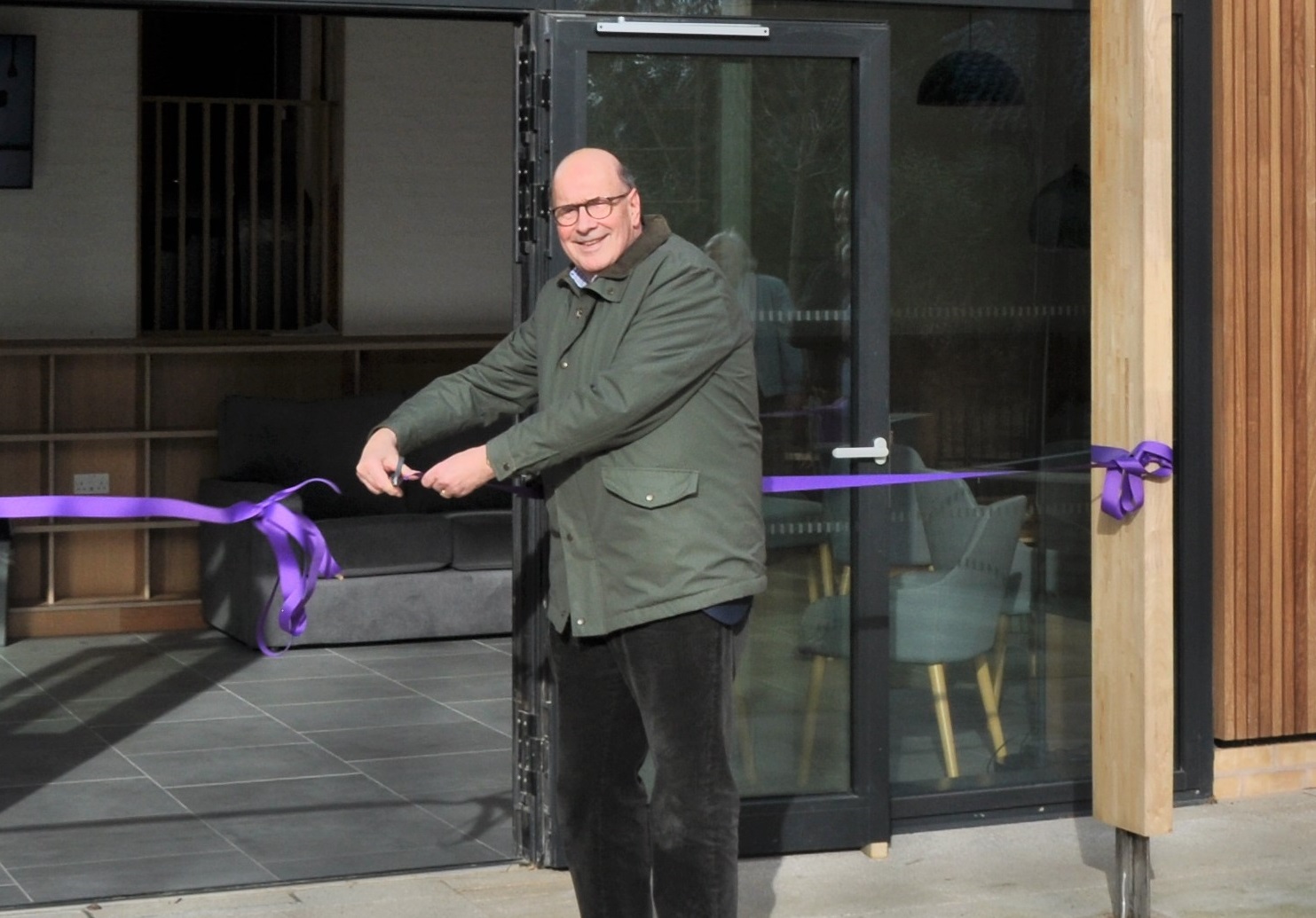 Stephen Taylor Court, the College's new Passivhaus accommodation on Barton Road, was formally opened by Provost in a ribbon-cutting ceremony last week. The site, formerly known as Croft Gardens, provides 84 homes for graduate students, Fellows, and their families, and is designed to rigorous Passivhaus standards with a very low carbon footprint. It consists of three gault brick crescents and a red brick villa which together provide the residential accommodation, along with the refurbished and extended Victorian Holmcroft building which provides a library, laundry room and common room area which spills out onto a sunny terrace and allotment garden. The pair of crescents whose gables face onto Barton Road are home to 12 two-bedroom and 12 one-bedroom apartments for Fellows and their families. The third crescent – named the Adkins Building after Tess Adkins – is home to 48 graduate rooms, and the single villa on Barton Road is home to a further 12 graduate rooms. 
During early design stages, the project was used as a test case for the development of the FCBS Carbon tool to help estimate and reduce the whole-life carbon emissions of the construction. On completion, the net carbon performance of the project (operational and embodied) is less than zero and will continue to be for the first 10-15 years of the building life. Every aspect of the project was measured against the client's bespoke sustainability matrix, complementing the high standards of Passivhaus performance with a holistic view of sustainability within the contexts of the immediate site and global climate. This matrix demonstrates excellence in health and wellbeing, landscape and nature, water, materials and waste, community and neighbourhood, and construction impacts. FCBS have also been working with the College on further renewable energy options, principally PVs, which would maintain net zero carbon in perpetuity.
Domus Bursar Philip Isaac commented:
At King's we are delighted with the results of the Stephen Taylor Court development, which is a credit to the vision, commitment and skill of all those who have worked hard to bring the project to completion. The buildings represent a major step in the College's ongoing efforts to decarbonise our operations in the context of the climate crisis, and in our aspirations to provide high-quality and affordable accommodation to our students, academics, and their families. It has been a pleasure to welcome the first residents to this inclusive and nourishing community, and we hope that the buildings will be enjoyed by many generations to come.