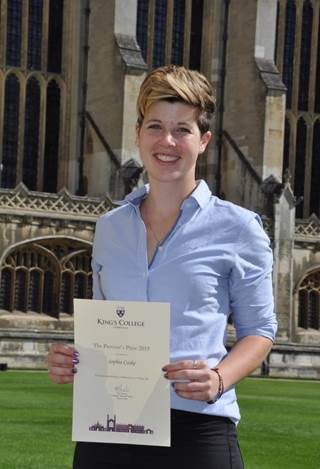 The Provost's Prize has been awarded to four students who have made a significant contribution to the College community, based on recommendations from the Senior Tutor and funded by the Cooke Fund and the Glynn Fund.
The winners of this year's prize are graduate student Sophia Cooke and undergraduates Semi Delano, Kozzy Voudouris and Charlie Baigent. The awards were conferred by the Provost with the following citations:
Sophia Cooke has organised and run several workshops for King's students covering topics such as sexual abuse and racial discrimination. The resources which she has created have not only been well-received at King's, but will also be used by other UK universities to redesign their own guidance and education on sexual violence and intimate partner abuse.
Semi Delano has been a major supporter of the Art Room, working closely with the Art Centre Convenor, Nigel Meager. Her recent exhibition 'Retelling Retrospect' is an example of the way she has been encouraging people to work in and use the Art Room. Semi won the College's Rylands Art Prize in 2018 with her oil painting 'Lagos in transition: Kekki Market at 4pm'.
As Access Officer, Kozzy Voudouris co-pioneered a 'Homecoming Scheme', encouraging his peers to return to their schools at the end of term to discuss their experiences, capitalising on the high state-school intake at King's to improve awareness about both the University of Cambridge and Higher Education in general. He was also involved with the King's Access Bus and the CUSU Shadowing Scheme. A keen member of KCBC, Kozzy has coached the Novice Men's First Boat once a week, helping the next generation of rowers.
Charlie Baigent has made a substantial contribution to the College through his work with the Choir, juggling his extensive choral commitments with the ones of his course. He is the first Choral Scholar to read Chemical Engineering, and in fact, the first studying engineering or experimental sciences of any kind.