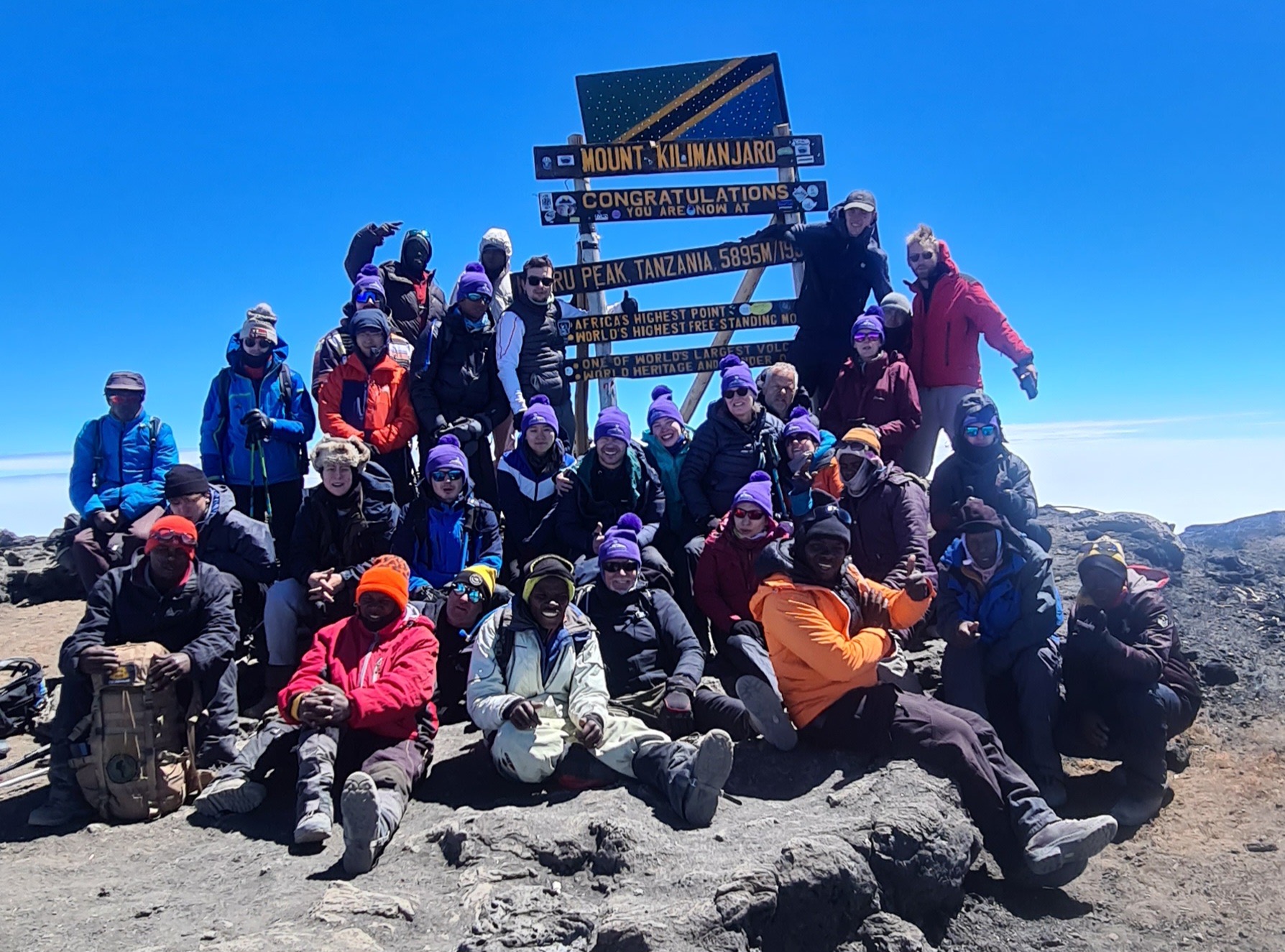 After a hiatus caused by the Covid-19 pandemic, a group of King's students, staff, Fellows, alumni, and their families returned to Tanzania to ascend Mount Kilimanjaro.  Standing at 5,895 metres, it is the highest mountain in Africa, and the highest free-standing mountain in the world.  The mountain dominates the skyline as one descends into central Africa and a few hundred miles south of the equator.
The Domus Bursar, Philip Isaac, has been taking teams to the summit since 2016, having previously organised an expedition while in the Royal Navy in 2001.  Over the years, some 65 members of King's and their loved ones have risen to the challenge – with 23 attending in 2023, the largest group.  This year's team comprised 15 students, two members of staff and their partners, one alumnus and former Research Fellow, as well as the siblings and children of some of these King's members.   Philip makes sure the team is ready for the challenge, from identifying the right equipment, to organising training weekends in North Wales and the Peak District, to arranging vaccinations, the prescription of the standard medical prophylaxis agent to avoid high altitude illness and visas in order to enter Tanzania. 
The trek takes six days and is programmed to include acclimatisation days and thus improve opportunities to summit without altitude sickness.  In 2023, 22 of the 23 attendees were able to summit together, commencing their summit day at 01:00 and concluding the day at around 21:00 – some 18 hours of trekking!  There are few mountains that present a good degree of challenge while remaining within bounds of personal safety and trekkers have often commented that the experience is the hardest thing they have ever undertaken but praise the camaraderie that develops and describe the astonishingly beautiful views.
Back in Cambridge, Natural Sciences undergraduate student Nick New says:
The success of the trip is not determined by the miles we covered or getting to the summit.  It is all about the cries, laughters and smiles we shared as a group along with challenging ourselves by stepping outside our comfort zone.  But being able to to say that we stood at the highest point of Africa is awesome as well.
And EMBA candidate Andriy Byelka adds: 
We touched the sky, proving that with perseverance and a supportive team, even the highest peaks can be conquered.  This journey has reshaped our souls forever.  Kilimanjaro taught us that no dream is too big, no challenge too daunting, and no goal unattainable.