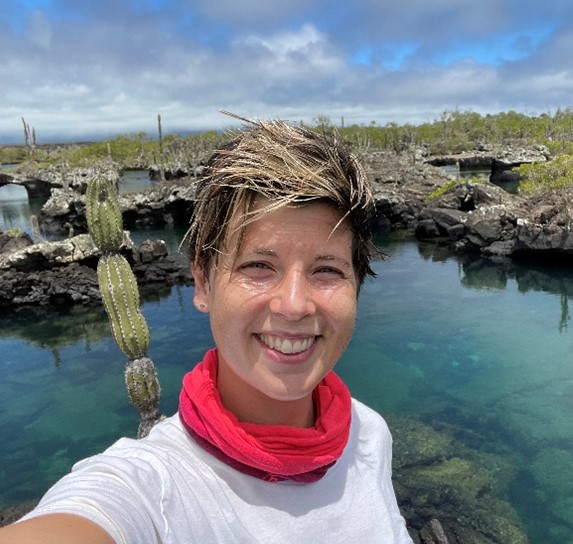 College Research Associate Sophia Cooke's Co-Galápagos project has been awarded a Darwin Initiative grant, securing funding for the team until the end of 2023. The project was launched in 2021 in partnership with the local Fundación un Cambio por la Vida (FUNCAVID) and the UK-based Galápagos Conservation Trust, with the aim of facilitating community-led solutions to environmental and social issues and enabling the archipelago to achieve its United Nations' Sustainable Development Goals (SDGs) by 2030.
Sophia reports:
"Rapid expansion in tourism in Galápagos has generated an over-dependence on this economic activity and caused steep population growth, which has overwhelmed social services. This has left residents without adequate healthcare, fresh drinking water and education opportunities. At the same time, many endemic species and unique ecosystems are facing serious threats caused by human impact. Work towards these topics is usually undertaken by independent groups of, often international, conservationists and social scientists and rarely involves the local community.
After a series of workshops with local representatives, Co-Galápagos was launched to support and amplify community-led work towards 40 priority SDG targets and to facilitate connections between project leaders and potential donors. It has also launched the first paid internship scheme for young Galapagueños to gain experience in projects, with each intern receiving $1,000 for six weeks' work in a project of their choice.
From my experience in Galápagos over the past eight years, I truly believe that initiatives like this are the way forward. Not only does Co-Galápagos work to increase the efficiency of sustainable development but, by channelling funding for this work directly through the community, it also supports inclusivity and local capacity-building. I am extremely grateful to King's for its support in establishing this initiative and very excited to see just how much we can achieve over the next few years!
To find out more visit the Co-Galápagos website.