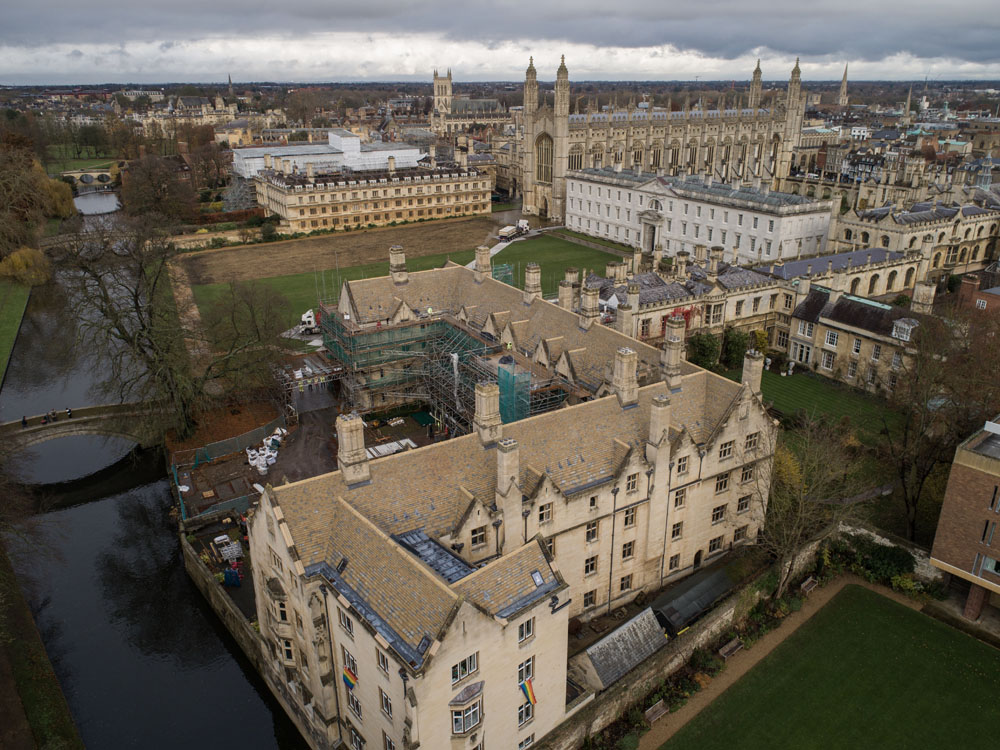 The project to restore the roof of Bodley's Court has been selected as the winner of the Heritage Roofing category and overall Roof of the Year in the 2020 UK Roofing Awards.
The restoration, led by specialist heritage roofing company Claude N Smith Ltd, required high-quality traditional craftsmanship over an area of 1,500 square meters and involved a number of technical challenges, including the erection of scaffolding adjacent to a gable wall abutting the River Cam.
On giving the award, Bob Richardson, Head of Technical and Training at the National Federation of Roofing Contractors, said:
This project was unanimously chosen as Roof of the Year. The sheer scale of the planning, leading to the completion of what can only be classed as a labour of love by skilled craftsmen, resulted in a remarkable re-roofing project.
The restoration project began in 2012 when a drone survey found serious erosion to the 130-year-old slate roof. Because of the building's heritage status and the need to use the same materials, the project necessitated the re-opening of a long-abandoned slate mine in the village of Collyweston, near Stamford. There, stone was extracted from the mine in large slabs (known as logs) using traditional Victorian methods before being cut down to shape and size through an accelerated 'freeze and thaw' process. The new mine will facilitate the continuation of traditional roofing methods and has sufficient stone to enable other similar projects to be undertaken, including in Cambridge.
Work commenced on the roof in July 2018 with a full roof scaffold and a temporary roof being formed, enabling the roofers to quickly remove the old slate. Alongside the replacement of the roof itself and a full refurbishment of the original windows, significant improvements have been made to the roof space to ensure fire separation and full access for maintenance. Bat boxes have also been introduced for the bats that frequent the roof, including a "bat hotel" for those wishing to remain resident over the winter months for the purposes of roosting!
In addition, modern ventilation processes have been put in place to allow the roof to 'breathe', which should ensure the integrity of the roof for well over 100 years without the need for regular and continuous maintenance.