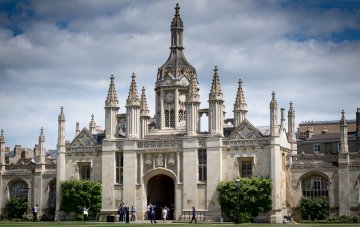 We appreciate that many applicants, parents, alumni, and other interested parties have justified concerns regarding the outcome of this year's university admissions process, in light of the changes to the grading of A-level results. A statement from the Senior Tutor and Admissions Tutors can be found below:
Access and opportunity are fundamental to the culture and character of King's. We have the highest proportion of undergraduate students from state schools among the Colleges of the University of Cambridge, with more than 75% of our current (UK-educated) undergraduates having come to us from schools in the maintained sector. Although we are still awaiting confirmation from offer-holders, we believe that in October we will be admitting the highest ever proportion of state-educated undergraduates entering any Cambridge College, in any given year - eclipsing our own record of 2018.
Each year the College gives out more offers than available places, on the grounds that roughly one third of applicants will either defer their place, withdraw their application, or miss their required grades in their end-of-school exams. Typically, the number of successful offer-holders will be lower than our physical capacity, giving us the flexibility to "reprieve" candidates who have shown the highest potential throughout the application process but may have under-performed during their exams.
This year, we made 144 conditional offers. As part of that offer-making process, we identified 35 exceptional students whose backgrounds indicated that they were applying from a position of significant disadvantage - whether through economic hardship or through education at schools which have not been high-performing and have been unlikely to send applicants to Cambridge. This week, 50 of our 144 conditional offer-holders found out that they had not attained their required grades. While these figures are proportionally comparable with other years, we fully appreciate that this year's applicants have been faced with an unprecedented situation, and many will be feeling a deep sense of injustice not to have received the grades they expected. 
As is the case across the University of Cambridge, we have honoured as many of these offers as we are able to within the physical constraints of our accommodation in College, and in doing so will be admitting the highest number of undergraduates in our history. We believe that approaching each individual case on its own merits has been the fairest way to make these difficult decisions in what have been exceptional circumstances for all concerned. In real terms, this means we have been able to offer 28 of those offer-holders a "reprieve" in order that they can be admitted to King's this October. Of these 28 applicants, 27 were studying at UK state schools.
Of the remaining 22 offer-holders, six did not meet the conditions of their offer due to their performance in STEP exams that were sat in person, rather than determined algorithmically. After accounting for these, we have now been able to ascertain that all 29 of this year's offer-holders from disadvantaged backgrounds have been offered places for this October. These 29 students represent some of our most talented applicants and we are proud to be able to welcome them to King's in the coming October.
We can now also confirm that these 29 students will be invited to take part in a full-time, three-week Bridging Programme, in collaboration with Christ's College and a group of dedicated lecturers, which will take place in September and will be at no cost to the students, thanks to generous philanthropic support. The programme has been designed to familiarise them with the Cambridge system, introduce them to lectures and supervisions and provide them with intensive teaching in key areas in advance of starting their course. 
In total, over 96% of state-educated offer-holders have been granted places to study at King's this October (excluding those that failed their STEP exams). The small number of applicants who have not been granted a place will of course be admitted for entry in 2021 if they meet their offer conditions on appeal or via an autumn examination sitting. While we understand the widespread desire for all 2020 offer-holders to be admitted either this year or in 2021, we must balance this against the knock-on effects for applicants in years to come. Given our own particular circumstances, adopting such a policy would cause a significant reduction in places for next year's applicants, whose education has been similarly disrupted by the COVID-19 pandemic.
Please see the following links for more information about the Bridging Programme, our outreach work, Tutoring Support through our Class of 1977 scheme, and our ground-breaking Student Access and Support Initiative.