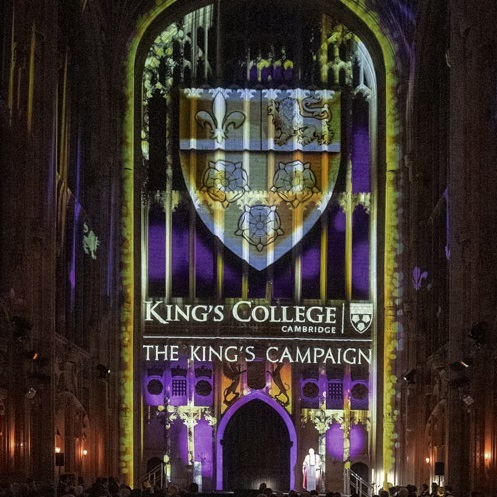 King's has announced a £100 million campaign to improve student access, enhance our capacity as a provider of world class research and to maintain our renowned historic buildings, such as the Chapel.
King's has among the highest percentage of state school educated undergraduates of any Oxbridge college (77%), but recognises much more still needs to be done to ensure greater access to Cambridge for able pupils from state schools and particularly for those pupils with socially and economically disadvantaged  backgrounds.
The campaign was launched on 1 December with the announcement of a £33 million gift from an alumnus to finance the building of two new halls of residence and the use of the rental income from them to seed a new student access and support fund. This fund will allow King's to:
Add 10 new undergraduate places per year to their existing annual undergraduate intake of 130. These new places will be solely reserved for students from disadvantaged backgrounds.
Reserve half of these new places for students graduating from the new Cambridge University transition programme - which is designed to allow access to Cambridge from students whose potential has not been realised at A-level due to difficult personal circumstances - when it begins in 2021/22.
Launch a 'post offer of a place at Cambridge but pre-A level exams' tuition scheme for state school applicants. This is needed to reduce the much higher incidence of state school offer holders failing to attain their required A-level grades when compared with their privately educated peers.
Provide annual bursaries of £3,000 to all of the College's undergraduates from economically disadvantaged backgrounds, to ensure equal opportunities in the ability to accept the low or no pay internships which are increasingly necessary to open the door to careers in a wide variety of prestigious fields.
These initiatives will account for £50 million of the £100 million being raised, with the balance being invested in additional teaching and research capacity, new buildings and maintaining the world famous Chapel and Choir.
The Provost, Professor Michael Proctor commented:
"We are very excited about this campaign. We hope the initiatives it is funding to improve student access, both to Cambridge itself and to careers after graduation, will inspire other Colleges to do the same. A successful campaign will also ensure that we can enhance the world-class teaching and research we are renowned for and maintain and preserve our historic buildings. We have already reached half of the targeted amount and we are confident our alumni will be keen to contribute to help future generations receive the same education they themselves enjoyed when they were here."
In October this year the University's Vice-Chancellor Professor Stephen Toope announced a new £500m drive to encourage and support applications from able students from disadvantaged backgrounds and ensure Cambridge is fully inclusive of the most diverse talent. The Vice-Chancellor said:
"We need to make sure that Cambridge is open to all who have the intellectual potential to flourish here, now and for future generations. I am delighted that King's is launching such an important initiative, and to see our ambitious plans for improving student support become a collective endeavour across the Collegiate University."
To find out more about the King's Campaign and its aims, please see our At a Glance brochure or find out more about how to make a donation.