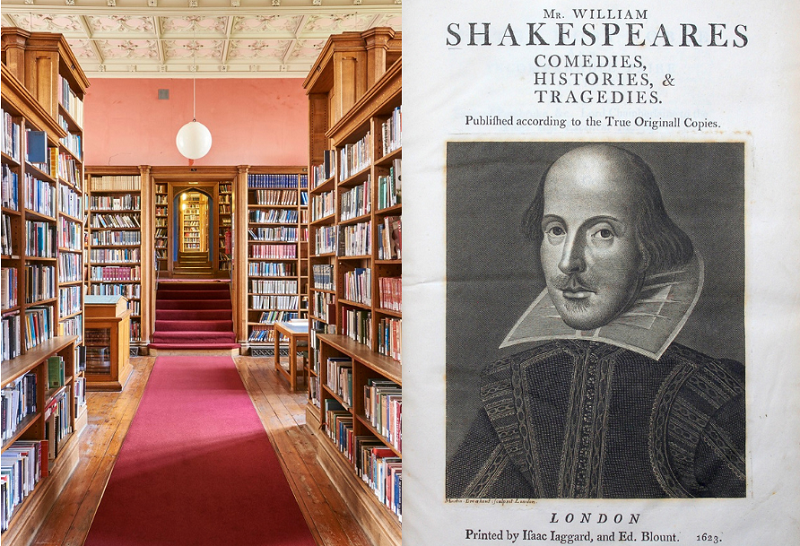 On Friday 8 September King's Library and Archives will be taking part in the Open Cambridge programme of events with an exhibition celebrating the 400th anniversary of the publication of Shakespeare's First Folio in 1623. We are delighted to exhibit the King's Library copy (one of only four copies in Cambridge) alongside other early editions of his plays and archival materials about Shakespeare and theatre in Cambridge.
The First Folio is the most famous edition of the bard's plays and it includes all but two of the plays now recognised as Shakespeare's, about half of which were not published during his lifetime.
The way Shakespeare is spoken today owes much to Kingsman GHW 'Dadie' Rylands (1902–99, KC 1927). He directed many of the Marlowe Society's student productions, influenced undergraduates including co-founders of the Royal Shakespeare Company and actors Sir Derek Jacobi and Sir Ian McKellen, directed John Gielgud in Hamlet, and produced the pioneering first Complete Shakespeare LP recordings (re-released in 2016 on CD).
The Open Cambridge exhibition at King's College will guide visitors through the theatrical world of King's, from the local—establishment of the Cambridge Arts Theatre as well as a strong tradition of involvement in student theatre—all the way to the national stage.
Open Cambridge
Taking place from 8 to 17 September 2023, Open Cambridge aims to bring together the Cambridge community to celebrate, discover and explore across the city.  Part of the national Heritage Open Days scheme, Open Cambridge offers special access to places that are normally closed to the public or charge admission.
Event details:
10:00am to 4:00pm on Friday 8 September.
Access for this event is via the gate on King's Lane, between Queen's Lane and King's Parade.