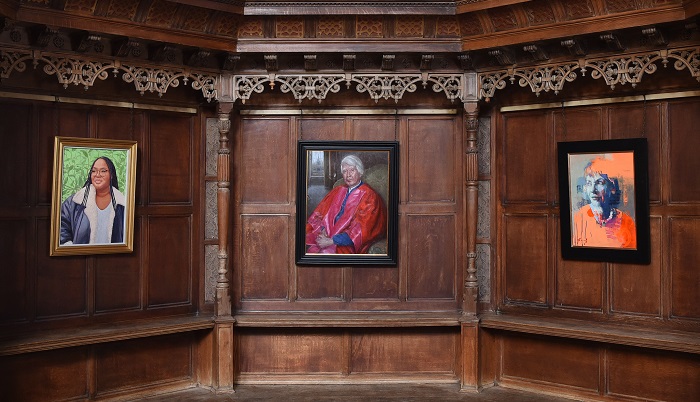 Four new portraits have been added to the King's art collection, broadening the range of people represented on the College's walls.
Biologist Professor Dame Anne Glover (KC 1978), current King's College Student Union President Timi Olumide-Wahab and immunologist Professor Charlie Loke (KC 1953), who celebrates 50 years as a King's Fellow, all sat for portraits commissioned by the College. Each sitter chose the artist who painted them: Christian Hook, Xanthe Burdett and Anna Paik.
The College also planned to commission a portrait of Honorary Fellow Professor Danielle Allen (KC 1993); Danielle has instead given the College a portrait of herself by Jannick Wildeberg.
The three commissioned portraits were made possible by philanthropic support. They are part of a longer project to increase the diversity of the College's art collection, particularly with portraits of members of the College community.
Professor Nicolette Zeeman, Keeper of the Collections, commented:
These works add significantly to the visual representation of women and people of colour on the College walls, better reflecting present-day King's. We are delighted with the project so far.
The College has also recently marked the 50th anniversary of the admission of women as undergraduate students; this included a special exhibition of 50 photographic portraits by award-winning photographer Jooney Woodward. The exhibition reflects a broad cross-section of King's women, from current Fellows and students to alumnae and the staff who work to keep the College ticking. The portraits and more about the project can be seen here.