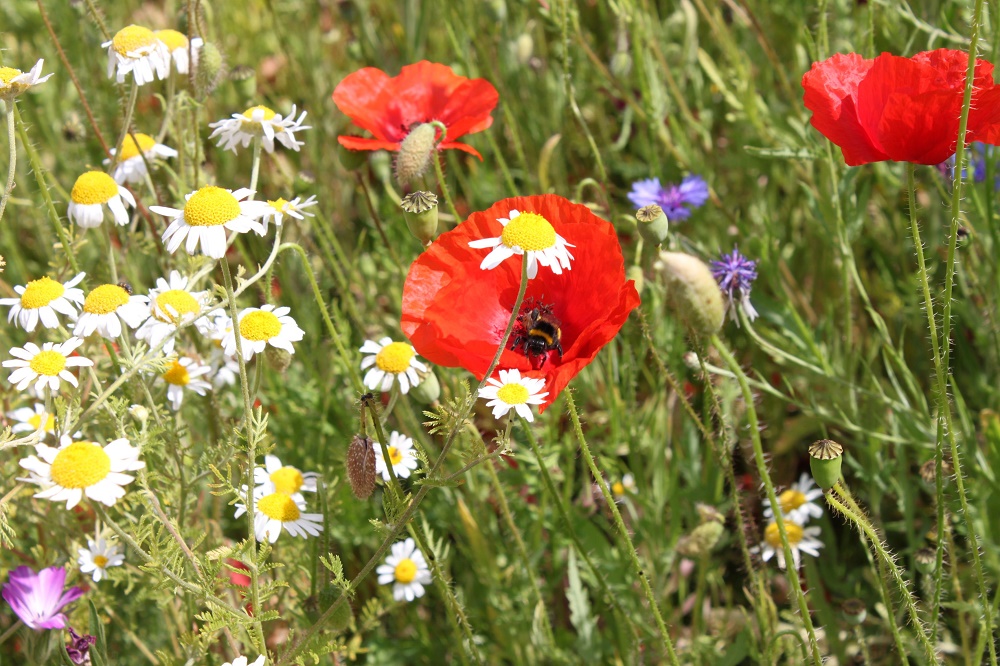 Over the course of the last few months, the famous Back Lawn at King's has been transformed into a wildflower meadow  covered in poppies, cornflowers and oxeye daisies, stretching from the Chapel to the river.
As part of the meadow project, research is now being conducted to monitor its impact on biodiversity and in preventing the decline of pollinating insects, which are so crucial to maintaining healthy ecosystems and food security. Since 1980, changing patterns of farming, the use of pesticides, a warming climate, and the destruction of wild habitats, have all caused pollinators to disappear from many of the places that they were once found in Britain. It is hoped that the biodiversity surveys currently under way will provide valuable data on species richness in this new meadow. 
The wildflowers will soon be harvested for hay and the lawn mown once again. This isn't the end of the story though; the seedlings will wait patiently until the mowing stops in Spring 2021 before bursting into bloom once again, ready for another chapter in the history of Cambridge's green spaces.
Dr Cicely Marshall, Junior Research Fellow at King's, will be monitoring the meadow on an annual basis. Cicely said: 
"The meadow looks wonderful. The lawn was not growing well, and it's a relief and a joy to see wildflowers thriving here instead. I'm really excited to watch the meadow develop. King's took a bold decision, and the support for the project has been heartening. We hope that the greatest endorsement will come from the diversity of animals and plants which start to use the meadow, as well as the visitors who come to enjoy it."
You can find out more about the project, its background and aspirations in Cicely's talk below.