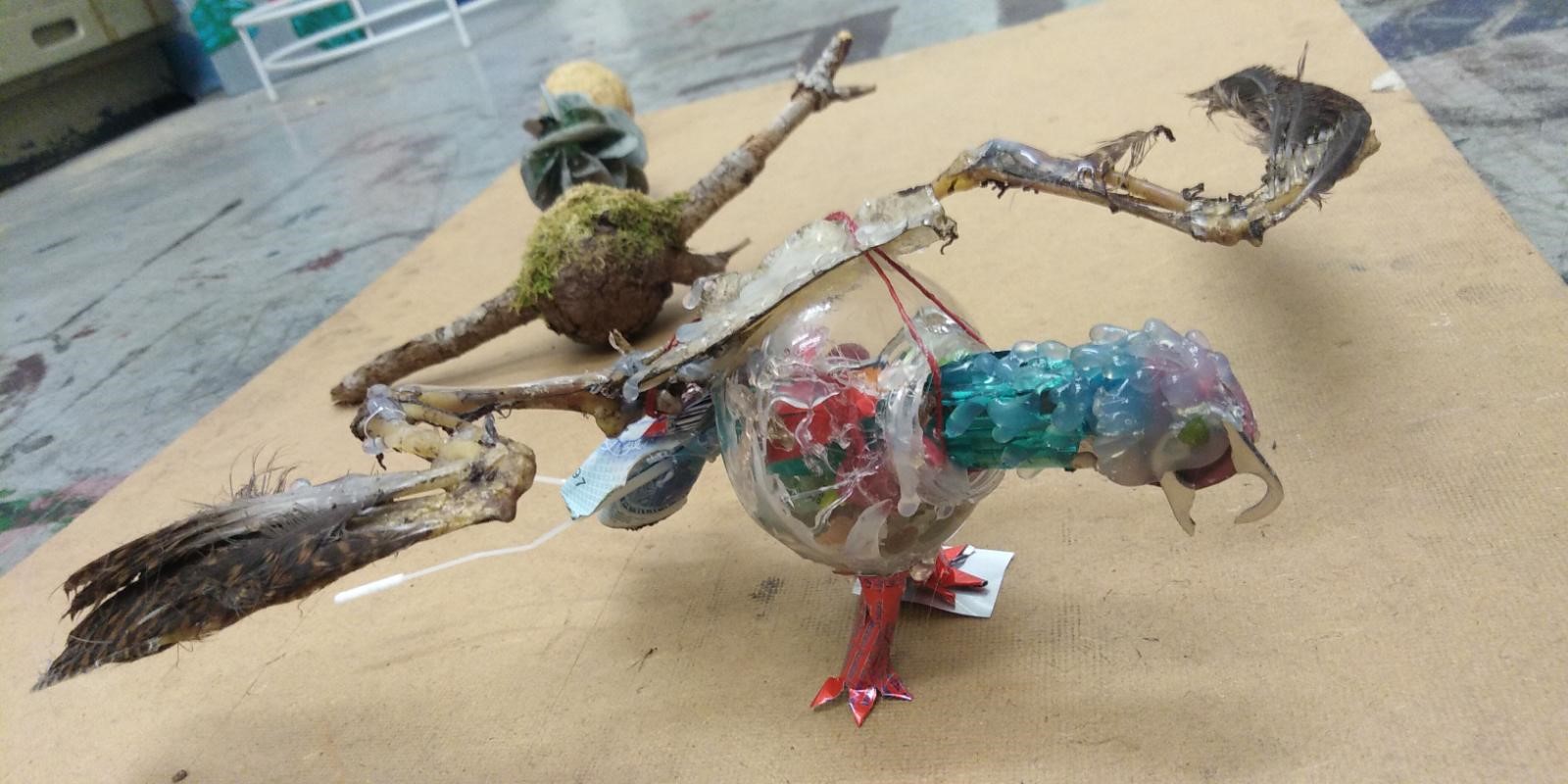 This year's Rylands Art Prize featured a diverse range of media and processes including painting, video, photography, graphic media, an installation, and even a display of archaeological fragments discovered in the College grounds. Final year undergraduate Josh Mazas received the first prize, with Kelly Wang and Catering Events Manager Guido Felici as runners-up. Third place was awarded jointly to Eleanor Gaylard and Anna Germon.
On receiving the award, Josh explained that his work 'Will We Forget' "started when I found the Spruce twig -with an internal tumor that made the grain swell into a sphere- in the Alps in 2020. It reminded me of a miniature planet, complete with forests of moss and miniature life forms. This little dead branch came to represent the destruction of the natural world that humans are currently wreaking on our world.
Just weeks before the deadline, I found the remains of a pheasant´s wings by the Chapel under the magnificent Horse Chestnut. I ran immediately to the Art Rooms, grabbing en route a bunch of mismatched rubbish which I spent the evening burning, cutting, and gluing to the wings. There was: a plastic discardable lighter, cigarette filters, a small religious crucifix pendant, a can of cherry Fanta, a bunch of covid swabs, an old Irish five pound note, some dry jellybeans, a spherical plastic jar, a rubber, and a biohazard sticker from Addenbrookes; and each bit connotes some sector of our 'civilised', consumerist, and highly problematic society."
Guido's photo was taken at the beginning of the pandemic. He commented "I used to live near Jesus Green. On the day this photo was taken, I explored how this heavy fog was changing the landscape and perception of my own body. Everything was dissolving, pulverising. That day I took more than 15 pictures playing with contrast and exposure. My mission is to catch and secure an intangible vibrant emotion and frame it forever."
The judges commented on the high level of technique of this year's entries:
We especially enjoyed the fluent brush work and drawing skills of Eleanor Gaylard's seated figure. There is a delicious use of colour in Anna German's watercolour, pen, acrylic and collage work, 'Highlands of Scotland'. Guido Felici's black and white photograph, 'Dissolving, 2021', was not only technically excellent, but also allowed us to sense the aesthetic contrast of a sharp and precisely rendered lattice of branches and twigs amidst the softness of Cambridge mist. 

Other work affected us in more emotional ways. For example, Kelly Wang's small painting 'Love and I' appears other worldly.

'Will we Forget' by Josh Mazas is ambitious work. Josh uses natural and found objects and materials to draw us into contemplating our past in nature as we travel towards a compromised future.
The work is being exhibited in the Art Rooms, at the top of Staircase A, until at least Sunday March 13, and it can also be viewed here.
About the Rylands Art Prize
The Rylands Art Prize is an annual College competition in memory of Dr G.H.W Rylands (known as Dadie Rylands), a former Fellow of the College, where King's students and staff can enter works of visual art in any medium.