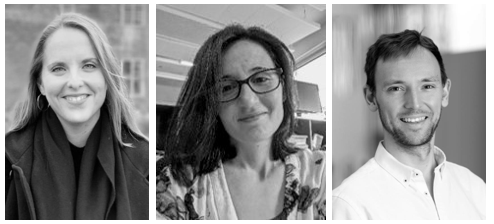 We are delighted to announce the fifth year of awards under the College's annual entrepreneurship competition, which is intended to encourage students, researchers and alumni to convert their creativity and knowhow for sustainable commercial and social benefit. This year there were 49 entries, which culminated in a final shortlist of six.
The College is also in the second year of its programme to offer places to outstanding graduate students who apply to study for the two-year Master of Studies in Entrepreneurship qualification at the Judge Business School. Seven offers were made in 2019, followed by ten offers in 2020, all of them to overseas students.
In 2020, the Entrepreneurship Competition's top prize, with a value of £20,000, has been jointly awarded to Vira Health and PoliValve.  The third prize, with an award of £5,000, went to Modern Synthesis.
Vira Health
Vira Health, led by alumna Dr Rebecca Love (KC 2015) is creating an entirely new standard of care for menopause. Their app will help women manage the specific symptoms - such as insomnia, anxiety, depression, hot flushes, weight gain and incontinence - through tailored treatments. Their ambition is to delay the onset of chronic conditions like osteoporosis, cardiovascular disease and even dementia through personalised care. 
PoliValve
PoliValve, a project led by former College Research Associate Dr Marta Serrani with a team which includes King's members Eugenia Biral (KC 2016), Ruhi Patel (KC 2018) and Professor Geoff Moggridge, aims at developing the next heart valve prosthesis generation. By mimicking the same mechanism present in the native tissue, their innovative polymeric prosthesis exhibits longer durability than biological prosthesis. In addition, it does not require anticoagulation therapy, opposite to mechanical valves. What's more, being amenable to inexpensive mass production techniques, their polymeric heart valve can be manufactured at a much cheaper price and with better quality control. By combining excellent durability, hemocompatibility and simple manufacturing techniques their polymeric valve has therefore the potential to be the one-type-fits-all solution benefiting millions of elderly and younger patients.
Modern Synthesis
Modern Synthesis is alumnus Ben Reeve's (KC 2008) material innovation start-up developing radically new sustainable materials for the fashion industry. Their first invention, "Microbial Weaving", is a patented process for growing composite leather-like materials with higher strength than plastic synthetic leathers and zero hazardous chemical use or microplastic pollution. 
The judging timetable was delayed this year as a result of the coronavirus pandemic, and for the first time the final presentations were made remotely to the judging panel popularly known as the Lyons' Den after the competition's founder and one of the judges, Fellow Commoner Stuart Lyons. The panel of judges is chaired by the Provost, Michael Proctor.
Announcing this year's awards, the Provost said: 'This year's competition has again resulted in excellent innovative ideas, and the quality and commitment have remained high despite the disruption caused by the pandemic. I'm delighted to see that King's remains at the forefront of entrepreneurship in Cambridge.'  
Member of the judging panel Sarah Wood (KC 1992) said: 'The quality of applications was extremely high and it was brilliant to see such a diversity of entrants. The fantastic female entrepreneurs who were awarded joint first prize are building ambitious businesses that have the potential to change millions of lives for the better.' 
The financial awards are supplemented by tailor-made mentorship programmes offered by members of the judging panel, composed of Stuart Lyons, entrepreneurship educator Shailendra Vyakjarnam, venture capital experts Adrian Suggett, Gerald Mizrahi and Jonathan Adams, genomics expert Gemma Chandratillake and technology and innovation entrepreneur and angel investor Sarah Wood. They have all advised a wide range of candidates, including several promising entrants who did not make it to the final.
Dr Rebecca Love (KC 2015), representing this year's co-winner Vira Health, said: 'We feel extremely privileged to be selected by such an incredible group of individuals and I am also really excited to get to build a piece of King's into Vira and to have your ongoing support.'
Last year's prize-winners are already gaining outside recognition and support. WaterScope, a co-winner, has raised over £150,000 of non-dilutive funding to-date, and analytical research by a member of the SpaceTime team, our runner up, received a distinction at MBA level. Asan (fellow co-winner) now has purpose-designed packaging and is market-testing the product in India where initial responses are favourable.
Further information:
Amy Ingle
Development Office
King's College, Cambridge
CB2 1ST
E: members@kings.cam.ac.uk
T: 01223 331481