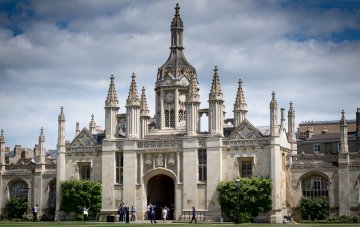 A statement from the Provost, Professor Michael Proctor, in response to Professor Stephen Toope's message in the wake of the killing of George Floyd:
"Like so many of you, I have been deeply distressed by events in the United States in recent weeks. The killing of George Floyd, as with the killings of Breonna Taylor and Ahmaud Arbery and the prejudice shown to so many others, has demonstrated once again the magnitude of the injustice and racism still facing black people today, not only in the US but also here and in other parts of the world.
On behalf of King's College, I would like to affirm that we utterly condemn racism at any level, and that we understand the anger of those protesting against racial prejudice in the US, the UK, and across the world. Moreover, we acknowledge that we too, as a College, have a responsibility to confront and combat racism wherever it is found, and to set ourselves the challenge of achieving the highest standards of behaviour.
At King's we pride ourselves on our reputation of being a welcoming, diverse and tolerant community, but we must ensure that these are not merely hollow sentiments. We must continuously and proactively educate ourselves about the inequalities that persist within our society, and we must act upon issues as and when they arise.
Over the past week we have been asked to explain what we are currently doing to help fight racism and inequality. There is, of course, a lot more to do, but here are some of the things that are currently being undertaken:
Encouraging applications from students from Black and Minority Ethnic backgrounds:
Since 2017 we have been supporting Target Oxbridge, a free programme that aims to help black African and Caribbean students and students of mixed race with black African and Caribbean heritage increase their chances of getting into the Universities of Oxford or Cambridge. Each year we play host to the Target Oxbridge residential over the Easter vacation.  
Thanks to the hard work and commitment of students past and present, we have also been organising a dedicated Open Day for applicants from Black and Minority Ethnic backgrounds since 2018. The BME Open Day is designed to address some of the root causes behind the reason for the low numbers of applicants from non-white backgrounds, in particular the lack of confidence and support that too often discourages young and talented BME students from even considering an institution like Cambridge as a viable place to foster their intellectual curiosity.
Levelling the playing field for students from socially and economically disadvantaged backgrounds:
In 2018 we launched the Student Access and Support Initiative, a multi-pronged programme to improve equality of access and of opportunity to help combat the entrenched social and economic disadvantage that disproportionately affects black applicants. Among the measures of the Initiative are: the reservation of 10 places each year solely for talented students from disadvantaged backgrounds; a pre-A-level tuition scheme to correct the academic support deficit for disadvantaged offer holders; a summer bridging programme to improve attainment for offer holders who just make or just miss their offer grades; and the provision of annual bursaries to undergraduates from economically disadvantaged backgrounds to enable these students to accept summer internships that help them further their career goals.
Training our staff in race awareness:
We have an ongoing programme of unconscious bias training and re-training for staff members in student-facing roles. 
Investigating our historic links with the slave trade:
We are aware that the College has benefitted from endowments and gifts which can be traced back to financial gains made through the slave trade. Last summer the College carried out the first part of a two-year research project into these historic links. The research is far from complete and the second year of research will be re-commenced as soon as is practicable.
While these actions are important, they are only the beginning. Over the coming months we will reflect on how we can better encourage, support and defend our black and minority ethnic members. In the meantime, let me assure our black students, staff and alumni that you have our support, and that you are a valued and important part of the King's community."