King's alumnus discusses life at Addenbrooke's during the pandemic.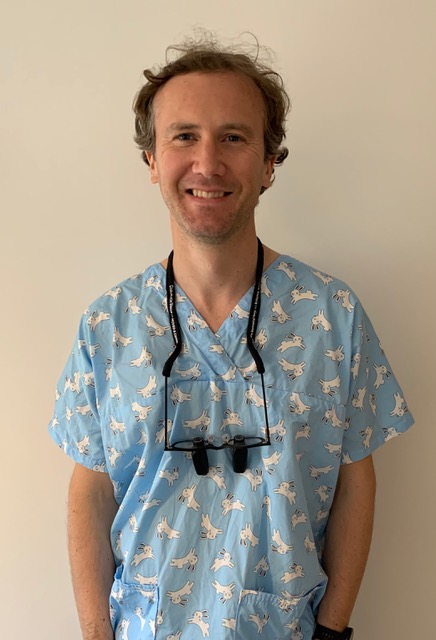 Nick Rabey (KC 2000) returned to Cambridge to take up a new job as Microsurgery Fellow at Addenbrooke's Hospital earlier this year, just as the extent of the COVID-19 threat was becoming apparent. He talks about unexpectedly having to take on the roles of house officer, registrar and consultant in one - and what it's like to carry out microsurgery in full PPE.
"When I returned to Cambridge as the microsurgery fellow in February of this year after seven years higher training in plastic surgery, I thought the most difficult part would be getting to grips with the hospital IT system. I had also arranged to demonstrate anatomy again at my old University department. Instead, what I have encountered in the past few months has been at times heart-warming, other times heart-breaking and occasionally really quite surreal.
After the grave threat of COVID was recognised in March, our department was advised to prepare for the worst. All but life-or-limb saving surgery was delayed to free up beds and surgical trainees were reassigned to medical wards or A&E. As I had completed my training I was promoted to consultant. However, with no juniors this meant taking on the roles of house officer, registrar and consultant as one; quite a daunting prospect!
A complete transformation to our practice was required. Patient contact and non-essential surgery was minimised. We switched to 'remote' confidential consultation methods using photographs, telephone and email. A decision whether a patient needs to be seen 'in-person' is now made on a case-by-case basis. With new safety protocols and mandatory PPE demands, patient turnaround times in theatre have slowed dramatically. Carrying out delicate microsurgical operations, some of which can go on for several hours, is difficult with heavy respirators and additional layers of protection.
However, despite these unprecedented changes, it has been inspirational to witness the commitment and sacrifice of colleagues and patients. Initially my junior colleagues were understandably anxious at instances of PPE shortages, working outside their areas of expertise and lack of training opportunities. However, the generous donations of scrubs and supplies from volunteers with free coffee and food has helped keep morale going. An explosion of excellent educational 'webinars' and support groups in my speciality has also meant teaching and training has been able to continue to some degree.
As for the future, it is difficult to predict where this crisis will lead us. Our region has coped well but it will take us many months to count the true cost of delayed diagnosis and management. Personally, I miss not being able to react to my patients' expressions during a consultation­ – their face and mine being hidden under a face mask – and I regret not being able to share the wonder of anatomy with students. Yet I believe that there have been some positive changes to our practice, and even as the cloud of a second wave lingers, we healthcare professionals will continue to fight to provide the best care possible for our patients."