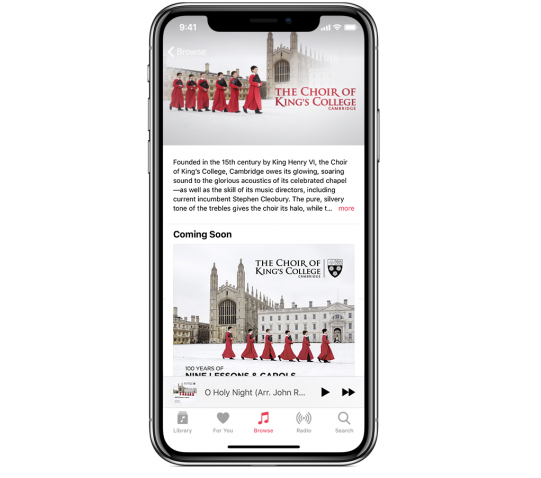 King's College has launched as a curator on Apple Music, the digital music and video streaming service. As a curator, the College will publish its own specially-created playlists exploring the history of the College as well as selections that delve into specific genres, or to accompany major festivals throughout the liturgical year. Playlists are curated by current King's members and by some of its prestigious alumni.
Highlights at the launch of the curator profile include Christmas from King's, which draws from the Choir's new album 100 Years of Nine Lessons & Carols, and an Introduction to Choral curated by leading British composer and King's alumnus Bob Chilcott. The College's curator channel will also be home to a specially-recorded 'tourguide' playlist about King's itself. A Tour of King's explores the history of the College through music, with narration by current student Melissa May.
Stephen Cleobury, Director of Music at King's, said,
 "King's College has an immense history of creating, nurturing and studying music over many centuries, and I am delighted that King's will be able to make a contribution to the musical experience of millions through its new curator profile with Apple Music."
Apple Music subscribers can find the new King's College curator page by searching 'King's College, Cambridge' or by visiting www.applemusic.com/kings.
Read more about the College's own label at www.kingscollegerecordings.com