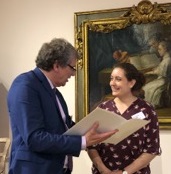 The Georg-Friedrich-Händel Society awarded their International Research Prize for the fourth time last week, and this year's winner was King's graduate Natassa Varka and her dissertation 'Charles Jennens' collection of Händel's sacred oratorios from Saul to Jephtha: sources, contexts and revisions'.
In awarding the prize, Chairman of the jury Professor Wolfgang Hirschmann commented:
"This is an outstanding study, based on meticulous textual work and remarkable intellectual history, which thus provides fundamentally new research outcomes".
The prize, sponsored by the Foundation of German savings bank Saalesparkasse, is valued at €2,000 and includes the presentation of the prizewinner's paper at the conference held during the annual Händel Festival in Halle.
All applicants are young scholars (individuals or teams) who have completed a research project on the life or work of Georg Friedrich Händel. They must have concluded their Master's or PhD studies in the last three years, as is the case of Natassa, who submitted her PhD earlier this year.