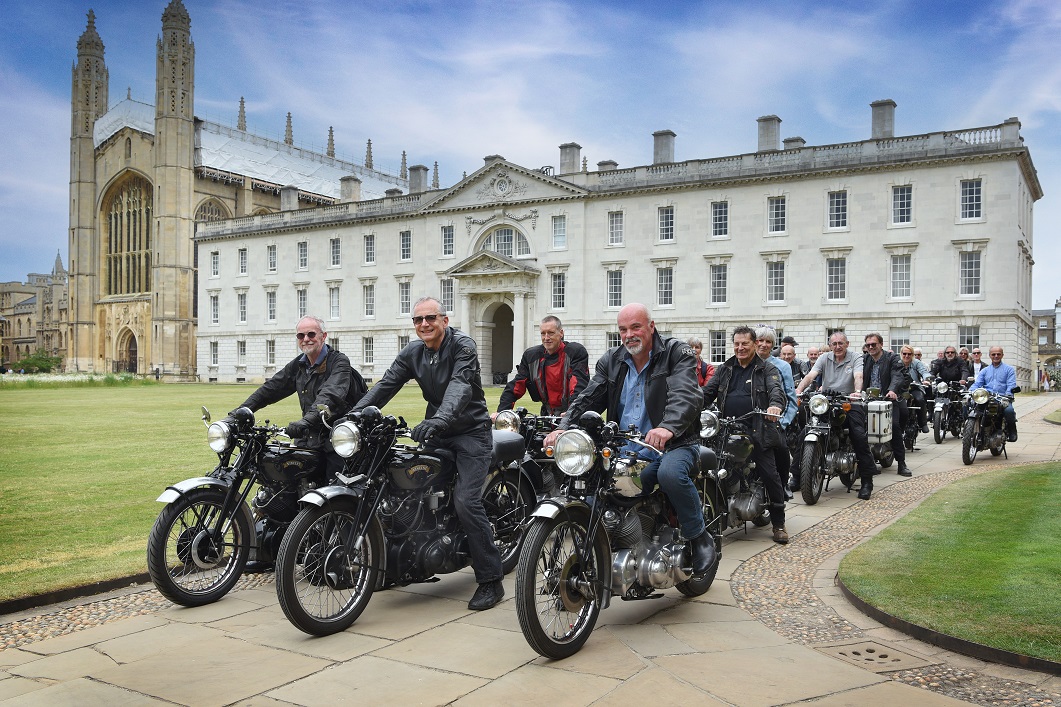 Inspired by King's Alumni Phil Vincent (KC 1926), students and spectators were treated to the unusual sight of 20 vintage motorcycles riding through the King's grounds on Saturday, as part of a celebration of the iconic King's engineer and motorcycle designer Phil Vincent, and an exploration of the future of motorcycle engineering.
The motorcycles, all original Vincent models from the 1920-50s, were ridden through the College by members of the Vincent Owners Club as part of an event looking at motorcycle design over the past century, and addressing the challenges facing traditional automotive industries in becoming more sustainable.
At the event, organised by the King's Entrepreneurship Lab, Chief Engineer of Triumph Motorcycles Stuart Wood exhibited a prototype Triumph performance electric motorcycle to illustrate their progress so far and the issues they face in facilitating today's zero-carbon imperative.
Researcher Shannon Bonke discussed his work on the development of liquid fuels made using water, CO2 and renewable electricity, to enable a rapid transition from fossil fuels to cheap, on-demand, renewable power and thereby cut >80% of the UK's greenhouse gas emissions. He commented:
Reaching Net-Zero requires development of innovative technologies that enable us to better exploit renewable solar and wind energy as is key to replacing fossil fuels. One path is the electrification of personal transport, using advances in battery technology to deliver modern electric vehicles. The application of these technology advances is revolutionising personal transport, but there is still work to be done, including addressing cost, range, charging time, charging infrastructure availability, weight, lifetime and the impacts from extracting raw materials.

The nature of Triumph's market and the Vincent Motorcycle legacy provokes questions about vehicle longevity, the emissions of constructing less-emitting replacements, how to sustainably fuel vintage vehicles, and how the passion of Triumph and Vincent owners for their vehicles can provide the entry-point for next-generation renewable energy utilisation technology.
Chair of the King's Entrepreneurship Lab, Malcolm McKenzie, also highlighted some of the relevant learnings from Phil Vincent, who was awarded his first patent while still an undergraduate at King's College in 1928. The patent, detailing an innovative triangulated spring frame for motorcycles, was the foundation of the motorcycle company he founded and which went on to produce some of the most innovative and iconic motorcycles through the 1930s to 1950s.
McKenzie, a Vincent owner himself, commented:
Phil Vincent was a visionary who created an engineering and design icon. Few engineers have their innovations still applied in premium products 90 years after their creation, and few entrepreneurs create products lauded in song, film and art nearly a century later.