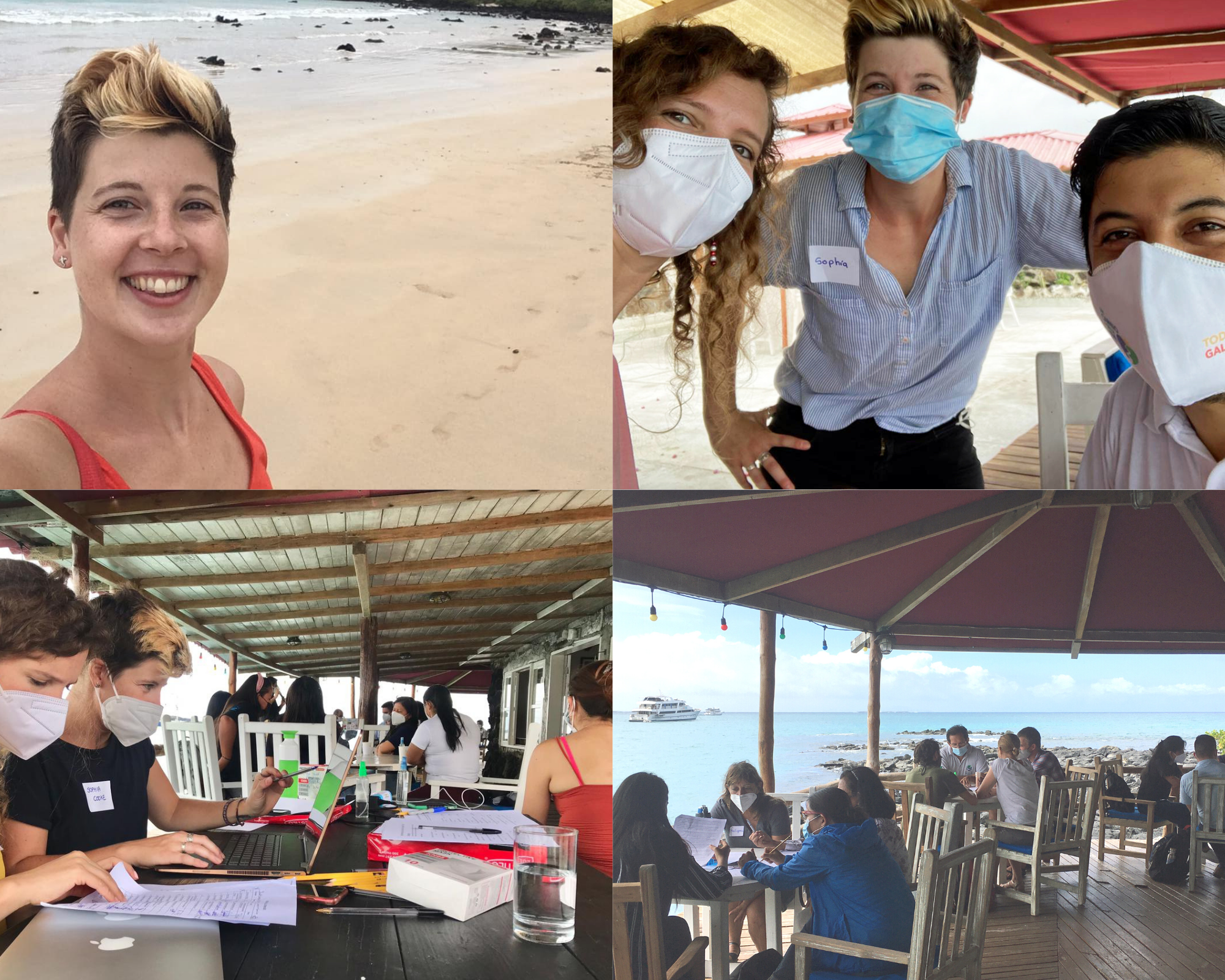 In June 2019, as Sophia Cooke was writing the last chapter of her PhD, the newly-appointed Minister of the Galápagos Governing Council Norman Wray approached her with a question: how can Galápagos achieve the United Nations' Sustainable Development Goals (SDGs) by 2030?
It was a question which set Sophia's career on a new path, from the pure ecology she had been studying to the interface of science and policy. After completing her PhD, she was appointed as a College Research Associate at King's and, two years later, she is living in Galápagos, having just aided the launch of a new Hub for Sustainability, Innovation and Resilience, aimed in part at achieving the SDGs across the archipelago.
The Hub is formed of eight organisations, including King's, the University of Edinburgh and six Ecuadorean institutions. Sophia's role is, with her colleagues, to establish a Policy Advisory Group within the Hub, serving to collate research and other knowledge sources to produce policy advice, and to guide research activities based on policy needs.
We caught up with Sophia following the launch of the Hub to find out about some of the many projects she's been involved with:
"In advance of the Hub formally beginning its work, I recently established another initiative, Co-Galápagos, to promote collaboration, cooperation and coordination to achieve the 2030 SDG Agenda in Galápagos. The intention is for this initiative to later be embedded into the Policy Advisory Group. Our team ran two workshops in April/May with stakeholders and decision-makers across the islands to prioritise and adapt the targets of the SDGs, and to assess the potential interactions between them. I am now formulating the results to produce an online tool for policy-makers and NGOs to be able to coordinate work efficiently towards these priorities and track their progress.
In addition, to support community efforts and aid recovery from Covid-19, part of the role of Co-Galápagos is to match people interested in donating (including tourists) with community projects which are linked to the prioritised SDG targets and which require funding. This is also helping to address the bias of Galápagos funding towards pure conservation and flagship species, as opposed to social issues. Unbeknown to many, the islands host a human population of 30,000, who suffer inadequate health care, clean water, education and gender equality - issues that have long been overlooked and which also feed back into conservation issues.
Finally, also as part of Co-Galápagos, I am building networks to map out research projects and connect researchers, to increase coordination between different projects and identify gaps with regards to the prioritised SDG targets. My next steps are to keep building this initiative, continue working to develop the Policy Advisory Group and the wider Hub, and of course, continue to explore my beautiful new home!"