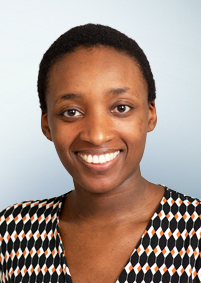 King's alumna Tasila Banda has been awarded a prestigious Kennedy Scholarship for postgraduate study at Harvard University. She will undertake the Master of Public Policy programme at the Harvard Kennedy School in the 2022-23 academic year, and has also been accepted to Harvard's MBA programme, which she will pursue on completion of the Master's programme.
After graduating from Cambridge with a BA in Law, Tasila worked as a corporate lawyer specialising in mergers and acquisitions at Freshfields Bruckhaus Deringer for five years, acting as co-chair of Freshfields' London Women's Network and as a leading member of the Black Affinity Network. Whilst at Freshfields, Tasila was seconded to UK Government Investments, for whom she advised officials on complex litigation, investments, privatisations and corporate governance matters, developing a keen interest in the intersection of the private and public sectors and how they can operate to alleviate inequity. Tasila is also a trustee of the Girls Friendly Society – a feminist charity providing opportunities for girls to build friendships and confidence. 
Director of the Kennedy Memorial Trust, Emily Charnock, commented:
We are delighted that Tasila will be joining the Kennedy Scholar community, and look forward to supporting her on the next step of her academic and professional career. We know she has an incredibly bright future ahead.
About the Kennedy Scholarships
The Kennedy Scholarships form part of the UK's official memorial to President John F. Kennedy, and are administered by the Kennedy Memorial Trust, which seeks to promote ideals of intellectual endeavour, leadership, and public service. Kennedy alumni have gone on to leading positions in a wide range of professional fields, including academia, government, journalism, business, and the arts, making a positive difference to society through their ideas and action.