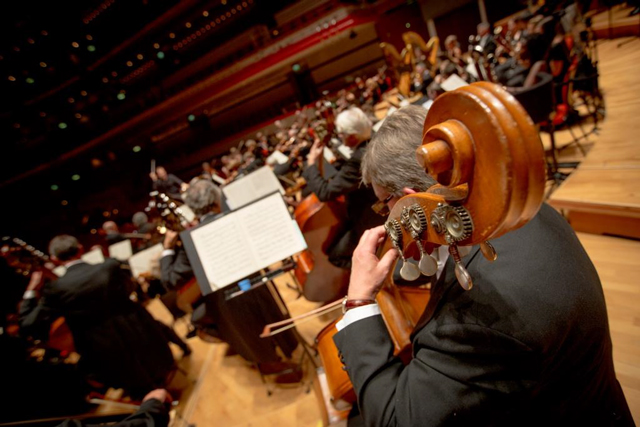 The King's College/Hartley Rogers CBSO Scholarships in Orchestral Composition are the result of an exciting new partnership between King's College, the University of Cambridge Music Faculty and the world-renowned City of Birmingham Symphony Orchestra, and made possible through a visionary gift from Hartley Rogers, a former pupil at King's College School and a former member of the School Choir. The two 2017–2018 Scholarships will each allow a Cambridge student – regardless of College affiliation – to compose a new work for the CBSO and to hear it rehearsed and professionally recorded in two separate workshops. This is an unrivalled and invaluable opportunity for a serious and talented young composer interested in composing for orchestra.
The Scholarships are aimed at giving advanced student composers experience of working with a top-level professional orchestra. Each Scholar will be given two one-and-a-half hour rehearsal sessions with the full orchestra of eighty players in which a substantial new composition can be worked on in detail. The two sessions will be separated by a substantial gap, so that ideas can be refined and revised in the intervening period. The first session offers a chance to hear the work in draft form (which, aside from extended passages, may also include trying out specific ideas, e.g. a chord sequence scored in several different ways) before preparing a final version in time for the second session. The schedule is designed to allow composers to be bold, inventive and to take risks.
We are delighted to announce that in 2017–18, Scholars will have the opportunity to work with Ilan Volkov, one of today's most adventurous and energetic conductors. Ilan Volkov is a highly sympathetic and experienced interpreter of new music, having held posts with the BBC Scottish Symphony Orchestra and Boston Symphony Orchestra amongst many others.
Both workshops will be recorded in their entirety. This enables composers to go back and review a comprehensive record of how various aspects of the piece worked, and revisit comments made in rehearsal by the players and conductor. At the end of the project, Scholars will come away with a recording of professional quality which can be edited into a complete performance for their own use. The recording can be uploaded to the internet but it may not be released commercially.
In addition, Scholars will have a smaller ensemble work performed in a special concert in King's College by players from the Orchestra.
Eligibility
All students currently enrolled at the University of Cambridge are eligible to apply. It is understood that those in the final (or only) year of their course will not necessarily still be enrolled at the time of the final workshops.
How to Apply
Students wishing to apply should send a CV, two scores (with accompanying recordings if available – these should be in mp3 format and must be shared with  on Dropbox), and a personal statement. The scores need not be for orchestral forces, but they should be substantial works which demonstrate an ability to write for the main families of orchestral instruments (thus, for example, two scores of works for strings only would be inadvisable).
The personal statement (750 words maximum) should include a proposal describing how you would use the Scholarship if selected (i.e. an outline of the piece you want to write and, if applicable, thoughts on how you would approach the workshops) and why now is the right moment for you to be given this opportunity. You should also refer to how the fulfilling the demands of the Scholarship would work in practice alongside your other commitments/opportunities in 2017–18. To be eligible, students must also confirm in writing that they will be available and will attend on the dates of both of the workshops in Birmingham.
The CV should list your compositions to date (including any for large ensemble/orchestra), your course, year and college affiliation, any prizes won, scholarships held etc.
All materials must be attached (in pdf form) to a single email addressed to marked with the subject CBSO Scholarship. Deadline: Monday 19th June 2017.
Applications will be reviewed by a panel including University of Cambridge Music Faculty members, senior members of the CBSO and professional guest composers. Successful applicants will be notified as soon as possible and will then be invited to compose a new work lasting c.10–12 minutes for an ensemble.