King's Chapel plays host to exhibition of calligraphy works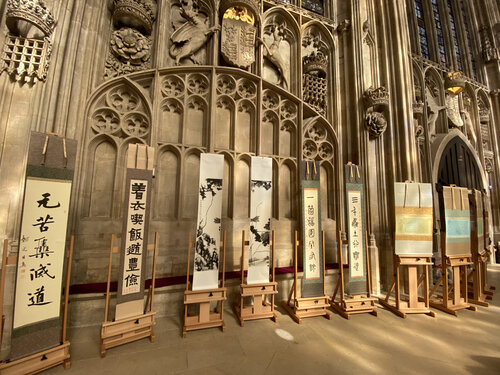 King's College Chapel is playing host to an exhibition of calligraphy works by the Venerable Master Yue Zhen, the Abbot of Taoguang Temple in Hangzhou, China. The exhibition, entitled Silent Glimmer of the Zen Lanterns, is part of the wider Cambridge Inter-religious Exchange Programme which has the aim of developing practical understanding between Christianity and Buddhism through conversation and artistic exchange. The Programme is chaired by the Dean, Dr Stephen Cherry, and organised by the Rivers Project and the Vanishing Worlds Foundation under the direction of Professor Alan Macfarlane.
Venerable Master Yue Zhen studied calligraphy at China Academy of Art and his artistic works have been exhibited many times at national Buddhist calligraphy and painting exhibitions. In 2014, a solo exhibition of calligraphy and painting was held for him at the Buddhist Ōtani University in Kyoto.
The Senior Assistant Keeper at the Fitzwilliam Museum, Dr James Lin, said of the exhibition:
Master Yue Zhen is one of the best calligraphers among his contemporaries. His calligraphy reveals a peaceful mind and a tranquil atmosphere. The brush strokes are gently and elegantly executed and the space between characters are beautifully balanced. Looking at his writing, one can almost inhale the fragrance of the ink and reading the words transports the reader to a peaceful zen temple where enlightenment is achieved.
The exhibition will run until 4pm on 8 October 2019. For more details about the exhibition please see the Cambridge Rivers website.