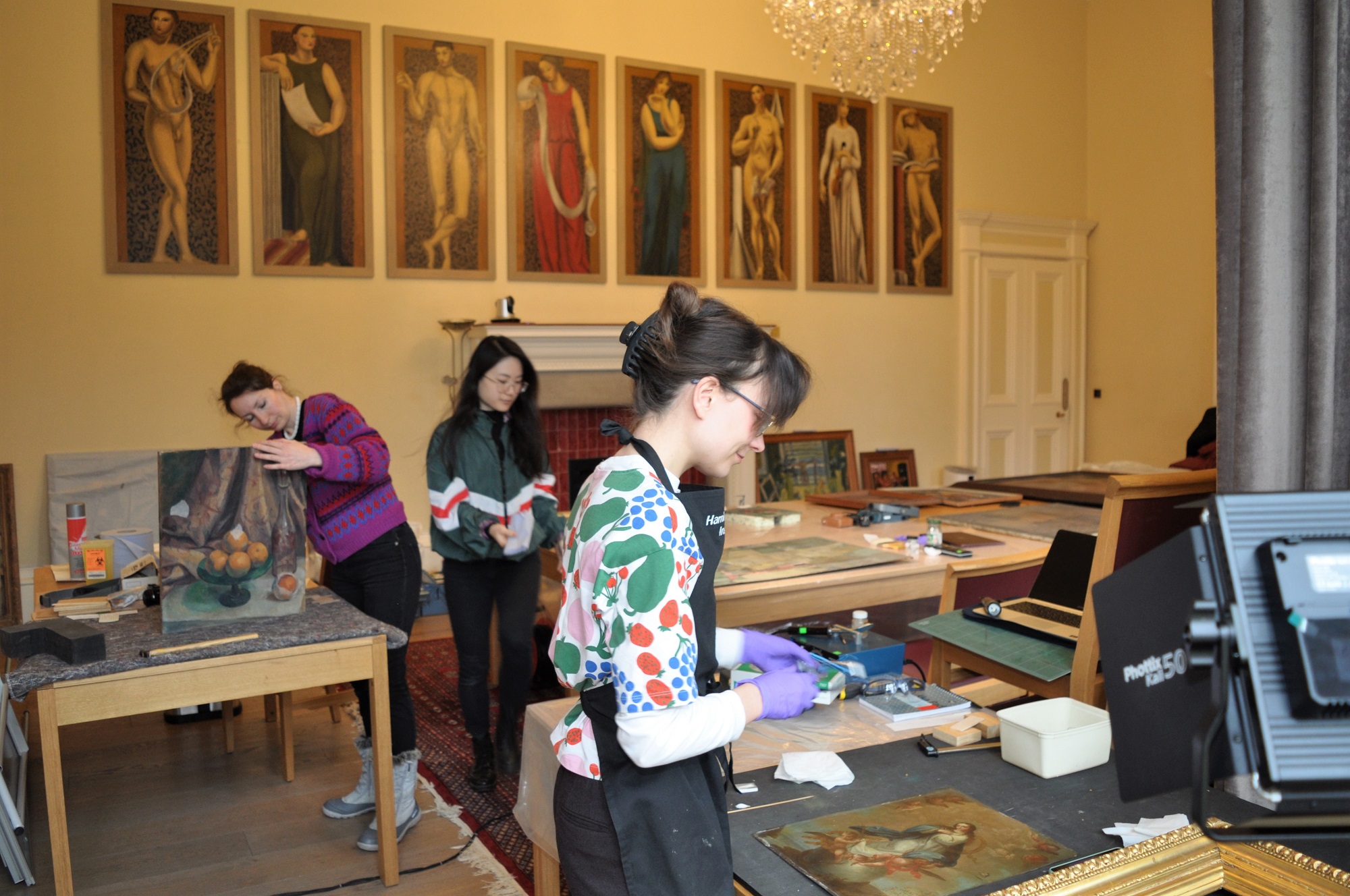 A team of University conservators is currently addressing the immediate treatment needs of more than 30 paintings from the College's art collection, as well as recommending long-term preservation strategies to ensure the longevity of these artworks. Rebekka Katajisto (St Edmund's College) and Grace An (Wolfson College), both in their second year of the Conservation of Easel Paintings course at Cambridge, are working under the supervision of Victoria Sutcliffe from the Hamilton Kerr Institute.
Working on-site, the team is treating paintings in a variety of mediums that are usually displayed in College offices, the Hall, and Fellow and student rooms.
Among other pieces, Rebekka has been treating the Virgin of the Apocalypse, a painting on copper by an unknown artist. Although in good condition, the piece was in need of a surface clean and its frame had partially split, which had led to the copper panel sliding down in its frame. Rebekka has re-adhered the split and consolidated the flaking gilding on the frame, adhering the wooden blocks inside the frame so the painting sits in the right position, as well as attaching a backboard to ensure better protection of the reverse.
Rebekka said:
What is so enjoyable about conserving artworks is the ability to bring the artwork closer to what the artist originally intended; in this case removing the centuries of dirt and dust obscuring the texture and colour of the brushstrokes. The painting has had a great aesthetic improvement, regaining a soft lustre across the surface. Frames often go unnoticed, but they have a huge impact on how we view artworks.
Meanwhile Grace has enjoyed the opportunity to focus on the College's more modern works like Laurence Leeson's Three Trees:
20th century painters like Fry, Leeson and Hicken could be quite experimental in their media, leading us to have to decipher why one paint passage has aged worse than another, why one pigment is more vulnerable, or why another has an unusual fluorescence under UV. It has been rewarding to contribute to the cleaning and stabilisation of these paintings so that they are ready to go back on display.
The Hamilton Kerr Institute is a department of the Fitzwilliam Museum. The Institute undertakes the conservation of easel paintings for public and private collections as well as for the Museum. The Institute aims to educate painting conservators to the highest standard and to contribute to scientific, technical and art historical research.