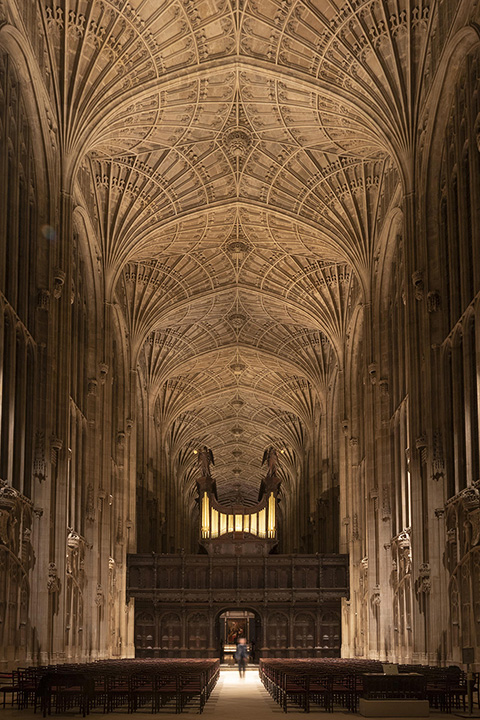 The project to improve the lighting in King's Chapel has been recognised in the LIT Lighting Design Awards in the Heritage Lighting category. The new scheme, designed by Atelier Ten, provides flexible interior lighting without any permanent fixings, and greatly improves the visibility for readers and singers.
Key to making the project a success was the need to provide a smoothed lighting of the entire vaulted ceiling, the ability to adjust the lighting to different settings, and the wish to make the lighting rigs as unobtrusive as possible. With the Chapel being a Grade 1 listed building of international importance, a major aspect of the design work was to minimise the visual effect of the lights and minimise any intervention in the fabric.
Following three trials over a period of years and thanks to the generosity of Ian Jones (KC 1980) and other College donors, the final stages of delivery of the Chapel Lighting project were achieved over the summer months of 2020 when the Chapel was closed to visitors due to the pandemic.
The new lighting scheme features multiple adjustable spotlight heads to highlight the beauty of the vaulted ceiling and to provide flexible lighting scenes for services and concerts. The scheme also includes architectural lighting of the side chapels and dedicated artwork lighting for important paintings including Rubens' Adoration of the Magi. A wireless DMX control system means no additional cabling needed to be installed, offering a user-friendly control system equipped with an interface that allows the BBC to connect to the system and take control of the lighting when filming the Christmas Eve Carol Service.
Revd Dr Stephen Cherry, Dean of Chapel, commented:
As Dean I am hugely grateful for the privilege of seeing this project through and for being one of the direct beneficiaries of the marvellous illumination of the place where I spend so many hours.
About the Lighting Design Awards
The LIT Awards were created to recognise the talent of international lighting designers and celebrate creativity and innovation in the fields of lighting products and applications. The jury is composed of 43 professionals - architects, interior designers, academics and media representatives - in the lighting industry.