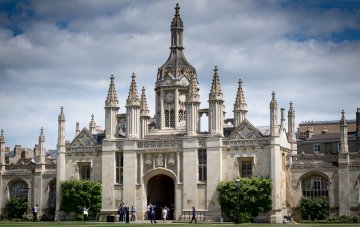 Following the sad death of Her Majesty Queen Elizabeth II, King's extends its deepest condolences to the Royal Family. While deeply mourning her passing, we can also celebrate her extraordinary lifetime of service to the nation and the Commonwealth.
Her Majesty was welcomed to the College on a number of occasions, most recently in 2009 with her late husband the Duke of Edinburgh, then the Chancellor of the University.
Our thoughts are with the new King and his family, and with all those who have been privileged to come into contact with Her Majesty and feel her loss. 
The College flag will fly at half mast on the Gibbs Building until the Royal Proclamation and then again until the State Funeral.
The College Chapel will be freely open tomorrow (Friday) from 10am for private prayer and reflection, and the Chaplain will offer public prayers at 1pm.