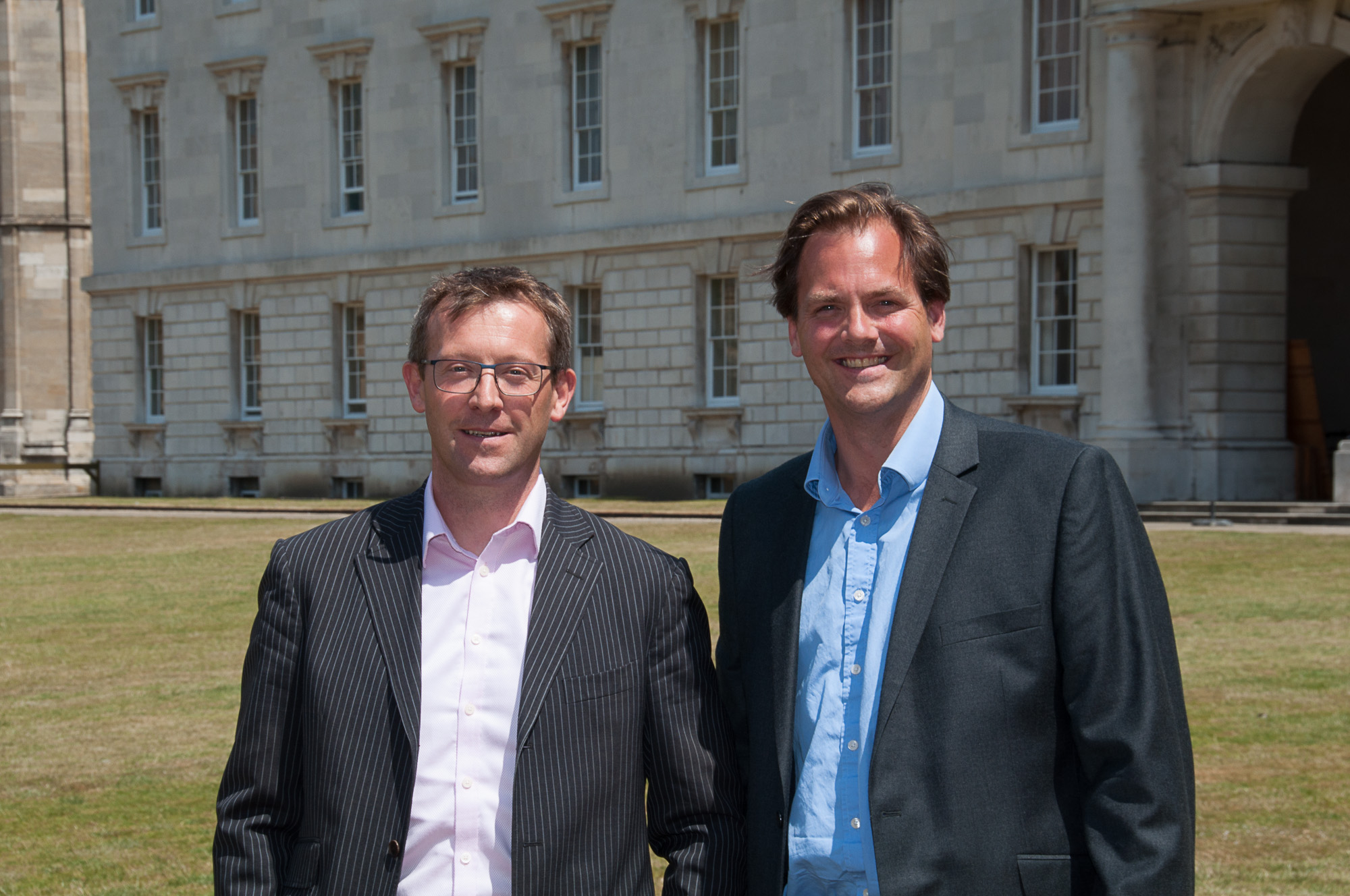 The annual King's College Entrepreneurship Prize has been awarded to Pumped Heat – a company founded by King's alumnus James Macnaghten (KC 1988) and Guy Winstanley. Both have 10 years' experience in the development of energy storage systems.
Pumped Heat offers a novel ultra-low cost method of electricity storage, called PH2O, that is suitable for long duration energy storage. The system is designed to store electricity for periods ranging from days to weeks, allowing it to manage the intermittency of wind and solar generation. The ultra-low cost means that it will be cheaper to generate electricity using renewables, with PH2O for the periods when it is not windy or sunny, rather than using a fossil fuel power plant. It will drive the de-carbonisation of the electricity system without the need for government subsidies or increased electricity prices.
PH2O is a 'power to thermal to power' energy storage system. It uses electricity to drive a process that heats up/cools down two large insulated reservoirs filled with water. The heating and cooling processes can be reversed to generate electricity when required. The low cost of the reservoirs means that it is commercially viable to store energy for days or weeks. The cooling process converts part of the cold tank into ice. The company's IP is based around this ice production process. The insulated reservoirs have been developed and built at scale in many locations in Denmark, where they are used to store heat for communal heating schemes.
In addition to being awarded the King's College Entrepreneurship Prize the company is pleased to have been awarded a £725k grant from the UK government to help develop the technology. The prize money from King's will be used to develop the company's website and produce a high-quality animation of the energy storage process. On being awarded the Entrepreneurship Prize, James Macnaghten said: "We are absolutely delighted to be awarded this prize. It comes at a point in the company's development where the additional money and recognition makes a significant difference to us and it is very gratefully received."
The runners-up, winning £10,000, were Farming Data, a tech startup founded by Cambridge PhD students and graduates with a vision of enabling smallholder farmers in East Africa to sell more, for more. The company aims to tackle the challenge facing many small-scale farmers in low-income communities of selling and transporting their produce to better markets, as well as the challenge facing buyers in sourcing produce from a diversity of small-scale farmers. Among its team is King's PhD student Marcel Meyer.
The Farming Data team is developing a simple SMS, text-to-voice and Android platform so farmers and buyers can trade directly and receive data analytics to help them make better decisions. Together with their user-centric designs, they aim to connect smallholder farmers to buyers more efficiently, ultimately enabling them to earn a higher income for their households. The project will undergo an initial trial in Kenya before hopefully rolling out to Tanzania.
In third place, winning £5,000, were Cambridge BioChip, a company combining microchip technology, physics, and biology to advance cancer care. The team is led by Dr Nuno Alves (KC 2010) and uses a small implantable biologically coated chip to simultaneously test a panel of drugs for real-time efficacy within the tumour, providing clinicians with true confidence on what treatment strategies will work for their patients.
The Stuart Lyons Fund for Entrepreneurship The Stuart Lyons Fund was established in 2014 to encourage and support King's graduates and researchers to develop and exploit promising ideas and concepts in the fields of entrepreneurship, innovation and competitiveness. Such ideas could result from academic study in the sciences, technology, engineering, mathematics or the humanities, from research projects, from business study in or outside Cambridge, or from the creative stimulus that the College provides.