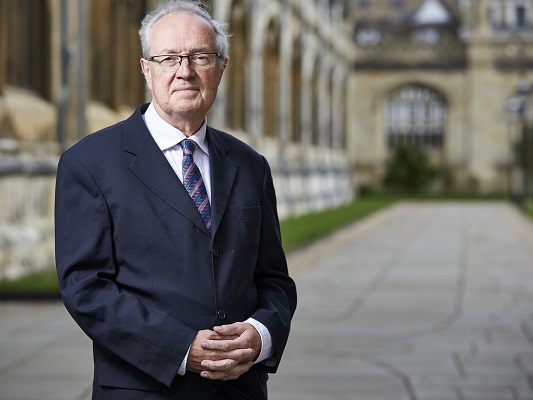 Director of Music, Stephen Cleobury, has been knighted in the Queen's Birthday Honours for his services to choral music.
The Provost of King's College, Professor Michael Proctor, commented on the award:
"The College is delighted and deeply proud that our distinguished Director of Music, Sir Stephen Cleobury, has been recognised in this way. In his 37 years in this post, Stephen's outstanding musicianship has not only maintained and enriched the College's own international musical reputation, but has made an invaluable contribution to the musical life of the United Kingdom and, indeed, the world."
Stephen has been Director of Music at King's College, Cambridge, since 1982. His work at King's has primarily associated him with the Choir of King's College, Cambridge, during which time he has nourished and enhanced the reputation of the world-famous choir and developed its activities in broadcasting, touring and recording. 
He has commissioned a great number of new choral works from leading composers, and is known particularly for introducing the now annual commissioned carol at the Festival of Nine Lessons and Carols on Christmas Eve.
During his time at King's, Stephen has worked with many leading orchestras and soloists around the word. He was Chief Conductor of the BBC Singers between 1995 and 2007; he is Chairman of the Incorporated Association of Organists Benevolent Fund, which seeks to support organists and church musicians in need; and he is President of the Friends of Cathedral Music and of the Herbert Howells Society. 
"I am profoundly honoured to have received this award. I have sought to nourish and support the precious choral tradition that we have in this country, and to be an advocate for the innumerable benefits of singing and choral music. Nothing I have achieved would have been possible without the outstanding singers with whom I have been so fortunate to work. It has been, truly, a privilege."

Stephen Cleobury
King's College announced in 2018 that Stephen would retire in September 2019 after 37 years in post.