In the Chapel: Carols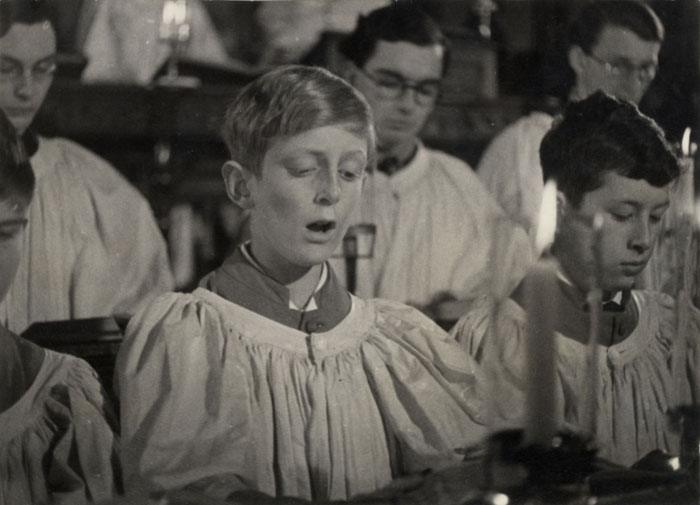 December 2013
A Festival of Nine Lessons and Carols and the Advent Carol Service are among the most popular annual services to take place in King's College Chapel. Both of these services were introduced by Eric Milner-White (KC 1903), who was Dean from 1918 until 1941.
A Festival of Nine Lessons and Carols is known, and replicated, around the world. It was first broadcast in 1928 and its audience numbers are often second only to the sovereign's speech. The service was influenced by a form devised in 1880 by the Rev. G.H.S. Walpole for use at Truro. Milner-White's own influence is said to be most clearly seen in the bidding-prayer.
The first A Festival of Nine Lessons and Carols at King's College was in 1918. Since 1919, 'Once in Royal David's City' has led the service but in 1918 it was the second carol to be sung.
In addition to the familiar radio broadcast of A Festival of Nine Lessons and Carols, and the television broadcast of Carols from King's, the Ministry of Information recorded 'Christmas Under Fire' in 1940, which has subsequently been used in the film 'Battle of Britain' and other television programmes relating to World War Two.
Milner-White introduced the processional Advent Carol Service in 1934, due to the popularity of the Christmas Eve service. The new service was so well suited to the Chapel that Lydia Lopokova (ballerina and wife of John Maynard Keynes) commented 'Now we know why the Dean is such a lover of ballet: he is the best choreographer of us all.'
Choral scholars have often sung carols outside of the Chapel, not least when entertaining those queuing for these popular services.
 
---
Gallery - In the Chapel: Carols
'A Quartet of Minstrels who went round Cambridge singing Carols at Christmas time'. (KCPH/2/2/2/39. Photographer: Edward Leigh)
The Dean's Christmas Party, 1932, showing Milner-White at the back. (KCPH/2/2/2/10, presented by G.H. Forsyth)
Useful Sources - In the Chapel: Carols
Rippon, J. and Cleobury, P. (1997) The King's College Choir Book, Chichester: Phillimore & Co. Ltd.
Wilkinson, L.P. (1963), Eric Milner-White, 1884-1963 Fellow, Chaplain and Dean, Dean of York: A memoir prepared by direction of the Council of King's College, Cambridge, Cambridge: King's College
Wilkinson, L.P. (1981) Kingsmen of a Century, Cambridge: King's College
Festival of Nine Lessons and Carols page (see 'See Also' below)
Details of Concerts and Tours (see 'See Also' below)
Chapel and Choir; archives catalogued on ArchiveSearch (see 'Links')
The papers of Eric Milner-White on ArchiveSearch (see 'Links')
'Christmas Under Fire' on the British Film Institute's Screenonline website (see 'Links')