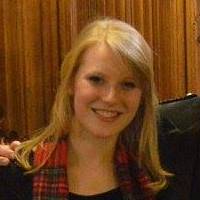 Ellen is from Worthing in West Sussex, which is on the south coast of England. In sixth form, she did A levels in French, English Literature, and Mathematics. Now she is in her second year here at King's College, Cambridge, studying Modern and Medieval Languages (French post-A level and Spanish from scratch).
How did you decide to apply for languages at Cambridge?
I wasn't initially keen to study languages at university as I thought it would make more sense to live in the relevant country if I wanted to learn a language, rather than in an artificial environment. However, when I researched the MML course at Cambridge, I realised that a large amount of the focus is on the country's culture, such as its literature, history, philosophy and film. I love the huge amount of variety in my subject, which caters for all interests, and how it really enables you to gain an insight into the workings of another culture.
I never considered Oxbridge until I went to my sixth form college. Having always attended state schools, and coming from a family in which no one had ever been to university, I didn't think of it as an option or know much about it. Yet when I got to sixth form college, I found that they were particularly good at encouraging students to apply to top universities. They even organised visits to Oxford and Cambridge during which we spoke to current students.
Despite my good GCSE results, I was still reluctant to apply, however, believing that Oxbridge would be too competitive and that everyone there would be cleverer than me. I didn't really see myself as a typical candidate for it. A couple of weeks before the deadline my teacher kept suggesting I apply, so I did!
How have you got on with the College system and meeting people?
I love the College system because you have a year group in a similar way to what you have at school, meaning that you are always surrounded by familiar faces. If I walk into the bar or coffee shop, I know there will always be a friend to chat to, and I definitely feel that there is a community atmosphere – to say that your college is like a family sounds like a cliché, but is true!
The activities during freshers' week encompass a huge range of interests, meaning there is definitely something for everyone. Each college arranges its own activity schedule, so it is much easier to get to know the people in your college first. This differs from other universities, but I loved the sense of community. I found the variety of interests in this week to be true to the whole of Cambridge, with the University offering so many societies and chances to meet like-minded people.
Modern and Medieval Languages (MML) is also a useful degree in terms of meeting people from other colleges because of the small language classes that we have in the faculty, so this is also a benefit. I think that the small size of Cambridge means that socialising is made easy because it's never hard to visit friends or go out somewhere.
How does the teaching work in Modern and Medieval Languages?
I have weekly language and oral classes which operate on a similar basis to school or sixth form. There are normally around 10 students in these. In my first year, I took Spanish ab initio (what they call studying from scratch), which meant that I had language and oral classes twice a week. This helped us to reach A level standard quickly (it's not as scary as it sounds!).
I also have a few lectures a week for my literature papers, and for each of these papers, I have supervisions: students are allocated a supervisor who sets fortnightly essays on a topic, and after each essay we meet to discuss it.
In my first year, I also had fortnightly literary theory sessions in King's, where we spoke about an aspect of theory on which we had previously done some reading. This was not specific to any language or module, but it was useful to apply to our studies of literature.
How is studying at Cambridge different to your experience of your sixth form college?
My experience of studying at Cambridge has been much more pleasurable than school or sixth form. Being able to focus on one subject that you enjoy makes it much easier to motivate yourself to work, and the more you advance in the degree, the more opportunities you have to find things that interest you, and the more choice you have over modules.
I went to a sixth form college which I had to commute to, meaning that all of my time was taken up travelling, studying and having a part-time job. Being in Cambridge and living with all my friends is so much more enjoyable, because everyone works hard, but it is much easier to be sociable during study breaks and weekends.
What do you do in supervisions and what is it like?
Supervisions normally happen in groups of two or three students with one supervisor, and we discuss the essays that we have written on the topic we are studying. Supervisors will ask us questions on our work, helping us to develop our ideas further, and giving us advice to think about for next time.
I was initially daunted by the prospect of supervisions, but in my experience they haven't been intimidating like I had imagined. Some may be more challenging than others, but it is best to think of it as an interesting discussion with an expert on a topic you are interested in, and a great opportunity to get personalised feedback on a regular basis - something not offered at most other universities.
How do you find the workload?
I do have a lot of work, but it has always been manageable. I have learnt how to work more efficiently here and manage my time better, so it is definitely possible to make time to do other things! My workload in second year has been significantly larger than in first year, but I think that this is something that varies according to your subject and module choices, so can't be said for all courses.
What do you like to do when you're not working?
In my time at Cambridge I have rowed and played netball and lacrosse for my college. Sport at college level is very good fun and informal, and is often a welcome study break.
Having so many friends living nearby means that it is always easy to find someone to chat to, and in Michaelmas and Lent terms (the first two terms of the year), King's formal dinners are my favourite events!
Where in College do you live this year?
The rooms in Old Garden Hostel tend to be very spacious, and New Garden Hostel (where I live) is more modern, with balconies (some overlooking the big garden) and ensuite rooms. New Garden Hostel also has modern kitchens with ovens – very useful for baking birthday cakes, and cooking dinner with friends.
Garden Hostel is a ten minute walk from the bar in King's (it's over the road at the back of College), and is right next to the faculty on the Sidgwick Site – five minutes away! Its location is incredibly useful, and I usually alternate between working in my room, King's library, and the King's coffee shop, although you can also work in the faculty libraries and the main University Library (also next to Garden Hostel!).
What are the best and worst things about studying Modern and Medieval Languages?
I think the best thing about my subject is the variety of modules that you can study. There is scope to try things you've never looked at before. The course also gives you a huge range of skills – language fluency, but also a detailed knowledge of its cultural aspects. French and Spanish seem to be very weighted towards literature, more so than other languages, which suits me perfectly but may be something to consider.
I think something frustrating about studying languages at Cambridge is the lack of emphasis on the oral component in the course in the first two years. The vast majority of teaching is conducted in English, and literature and culture papers and dissertations are also written in English. The year abroad (which I'll do next year) is obviously ideal for improving spoken language, though.
Are there any things that you struggled with initially?
The process of studying is very different at Cambridge to school, and it can sometimes take a while to get used to this change. The style of essay writing you need here differs, but I think that it's important not to be afraid of doing badly in essays now and then because it will help you improve in the long run, and it really doesn't matter!
What do you normally do during the vacations?
Like most linguists, over the summer I have tried to do things which will aid my spoken language skills, and there are many college and faculty travel funds which facilitate this. Last year, I taught English at a language school in Spain, and worked as an au pair to a Spanish boy. I find it useful that the holidays are so long, as it gives me time to consolidate the learning I've done in term, but also to have fun and relax.
How did you find the application process?
Throughout the application process, I was convinced that I was wasting my time! I couldn't believe it when I received an email inviting me to interview. I was extremely nervous and read up on everything I mentioned in my personal statement, just in case they quizzed me on it. In my experience, this wasn't completely necessary, but it gave me peace of mind that I would be prepared!
I remember standing in front of King's with my parents before I went in, really realising for the first time where I'd actually applied - the huge imposing building standing before me! It was very daunting at that moment, but my actual interview experience was nothing like the exterior would suggest.
I had heard so much about Oxbridge interviews and the obscure questions I was apparently likely to be asked, that when I saw the professor's name ornately printed above the door frame and the reality of the situation sunk it, I seriously considered running away. Luckily, the reality was nothing like this. The professors were not trying to catch me out, and genuinely wanted to hear about my interest in languages and the cultural aspects of them.
For Modern and Medieval Languages, I had one interview for each language. I was given some time before each interview to read a passage, which I then discussed with the professor, prompted by questions from him, along with some grammar exercises and discussion of my interests.
When I received my offer in January, I was in disbelief, but then I still wasn't sure I'd achieve the required A*AA grades... Originally I had been more worried about the interview than the grades, but this reversed upon receiving my offer. When I found out that I had met my offer conditions on results day, I was still very much daunted by the prospect of Cambridge, and made sure that I read almost everything on the reading list before going - again, this made me feel prepared!
What advice would you give to sixth formers reading this, who may feel like you did when you were applying?
Cambridge is a beautiful, exciting place to live and study with so many events, talks, formal dinners etc. happening all the time, and the academic benefits of small supervisions mean there is more scope to explore your personal interests. I really think that anyone even vaguely considering applying should go for it. I definitely wouldn't be here if I hadn't been lucky enough to receive so much encouragement. You have nothing to lose, and it's likely that applying won't turn out to be a waste of time!
I think that it is important to show that you have an interest which extends beyond your syllabus, so reading books which you aren't studying for school, for instance, and thinking about why they interest you, is a good thing to do. Also, if you are doing other humanities subjects, consider how they may relate to languages (literature, history or philosophy, for example), and how and why you might want to explore them further in a degree.
I only chose King's College because my teacher told me it had a high state school intake. I was originally going to do an open application (where you don't choose a College), but now I would advise using your choice whilst you have it if you have any preferences at all. Even if you aren't accepted by your chosen college, they moderate between the quality of applicants to the different Colleges, so there is a chance that you will be considered good enough to be pooled and another college may accept you.
Which papers did you enjoy most in first year?
Studying ab initio Spanish was very rewarding, as although it was a challenge, our progress by the end was clear. I also loved the introductory French literature paper as it covered six different periods in literary history, from a medieval chanson to a film from the New Wave of the 1960s.
I had never studied literature in my French GCSE or A Level, so for me, it was so interesting to explore areas I'd never learnt about before, and it helped me to work out what I wanted to study in second year.
What is your favourite memory from last year?
It's impossible to choose one! Formal dinners, having a sleepover in King's bar whilst queueing all night to buy a Christmas formal ticket, relaxing in the sun, and punting after exams, and of course the post exams celebrations of May Week, which surpassed all of my expectations!
What are you looking forward to next year?
Next year, I'm going to be studying at university in Lyon during my year abroad. I'm really looking forward to studying new things in a different language and spending a prolonged period in an immersive environment in order to improve my French - something that I haven't done before. I'm also excited to meet new people from all over the world and visit my friends from Cambridge, who will also be on their years abroad!
May 2016