Digital Event: King's Topical Research Fellows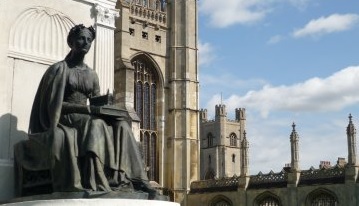 Join us at our next digital event entitled King's Topical Research Fellows, on Thursday 13 May at 6.00pm (GMT+1).
Academics – particularly on the Arts and Humanities side – are often thought to do 'ivory-tower' research, with no relevance to the 'real world'. But for the last four years King's has advertised and appointed Research Fellows in the Arts, Humanities, and Social Sciences not by advertising within a particular academic discipline, but by advertising for projects on issues that are crucial in the world at large. We have appointed Research Fellows in, among other things, Inequality, Prejudice, Punishment, Race, Representation, and Slavery.
In this hour-long webinar session three of those Research Fellows will talk about their work – Freddy Foks on Race, Tejas Parasher on (political) Representation, and Kate Herrity on Punishment. This will be an opportunity both to hear about their work and to question them on where they hope that their research will lead.
Emigration state: how mass emigration affected migration policy from the Victorian era to the Windrush Scandal
Dr Freddy Foks
Between 1850 and 1980 as many as 24 million men and women left the British Isles. What impact did mass emigration have on the formation of the modern British state? And how did emigration affect immigration policy after 1945? This talk will answer these questions by introducing you to some of the landmark events in the history of migration policy in the UK. The talk will introduce a new conception of Britain as an 'emigration state', a concept that can help explain the way that racism and other forms of discrimination influenced migration policy in the twentieth century.
'The Genius of the People': Popular Sovereignty in an Indian Princely State
Dr Tejas Parasher
This talk focuses on a forgotten constitution drafted for the state of Mysore, in southern India, in the early months of 1923. Mysore was one of British India's approximately 500 'princely states' – regimes created through a policy of indirect rule, in which native rulers were allowed to maintain a certain degree of political autonomy from the colonial government. In the 1920s, the state sought to experiment with democratic reforms, and appointed the noted Indian political philosopher B.N. Seal (1864-1938) to draft a new constitution. Examining one of the two surviving copies of Seal's constitution, stored in the British Library's India Office Records, the talk reconstructs its unique theories of popular sovereignty and political representation. The talk uses the Mysore constitution to rethink the relationship between the parliamentary tradition and anti-colonial political and legal thought in the twentieth century.
Punishing Soundscapes
Dr Kate Herrity
I invite you to imagine what a prison sounds like, and what this soundscape tells us about what it is like to live and work in these most particular of places. I will consider how listening to the prison soundscape affects how we understand, and what implications this has for how we think about spaces of punishment, both for those inside and beyond these punishing soundscapes. 
Registration
Please follow the link here to register your attendance.
Please note the event will recorded and uploaded to this webpage for those of you who are unable to join and wish to watch it in your own time.