Digital Event: Gates Cambridge Scholar Series: A conversation with Anna Malaika Tubbs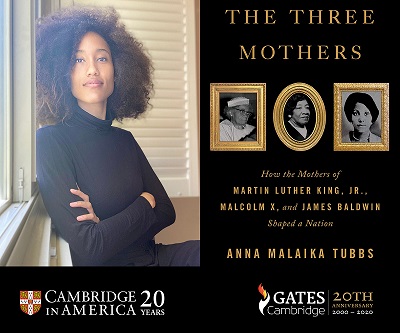 Cambridge in America will host a conversation with Gates Cambridge Scholar and author Anna Malaika Tubbs (KC 2017) and Dr. Mónica Moreno Figueroa, Senior Lecturer in Sociology at Cambridge, about Anna's journey from activist and advocate to Gates Scholar to author of the groundbreaking book The Three Mothers: How the Mothers of Martin Luther King, Jr., Malcolm X and James Baldwin Shaped a Nation on Tuesday, 11 May.
The New York Times Book Review highlights Tubbs' discovery of the "beautiful intersections" among the three extraordinary women whose deep and honest love pushed and prepared their revolutionary sons to challenge racism, question the status quo, and fight for racial justice.
Anna Malaika Tubbs is a Ph.D. candidate in Sociology at the University of Cambridge. Anna grew up abroad in Dubai, Mexico, Sweden, Estonia, and Azerbaijan. Motivated by her mother's work advocating for women's and children's rights around the world, Anna uses an intersectional lens to advocate for women of color and educate others.
Dr. Mónica Moreno Figueroa is a Black Mestiza Mexican woman, Associate Professor in Sociology at the University of Cambridge, and the University Race Equality Champion. She co-leads the Decolonise Sociology Group and runs the 'End Everyday Racism' project that monitors racism in higher education. Since 2010 she has been a co-leader of the Collective for the Elimination of Racism in Mexico, COPERA, dedicated to making racism public.
Registration
This digital event will take place via Zoom on Tuesday, 11 May at 4pm GMT+1 (12pm ET/9am PT). Details will be sent via email to registered participants prior to the event.
For more information about the speakers and to register, please click here. To order your copy of "The Three Mothers", please click here.