Colin Whitworth - Diagrams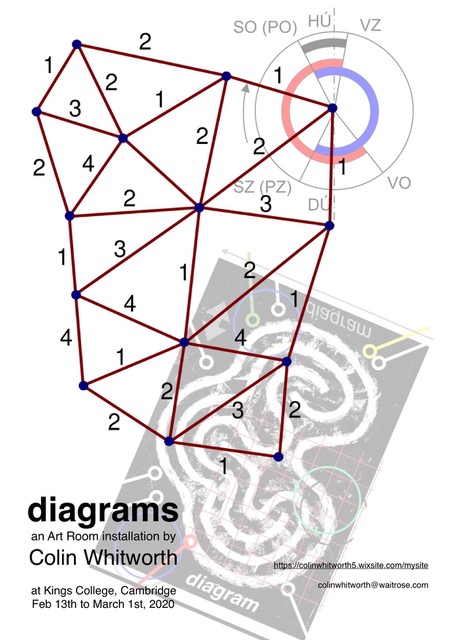 12 Feb 2020 - 10:00 am

to

29 Feb 2020 - 5:00 pm
Colin Whitworth writes:
"This exhibition of paintings, collages, constructions, assemblages, prints, and altered books - entitled 'Diagrams' - is a network of visual information without a literal narrative.
Mass information is conveyed primarily in words and numbers, sometimes backed up by visual media in the form of drawings, charts and diagrams which are used to organise and explain the information.
It is not essential for every person to understand every piece of information. Information put out via mass media is often only intended for a minority - a target audience. For the majority it merely adds the haphazard proliferation of detritus dumped on us every day. We are over-saturated yet can skim over most of it without fear of consequence.
However, the visual medium has its own intrinsic interest - we can ignore the main message and enjoy the visuals. They are full of dynamics, energy, formal organisation and random playfulness. We can let our imaginations suggest new meanings for shapes generated by formulae, choose our own viewing order to link sequences, look at numbers as pattern and rhythm rather than doing the maths.
I am only interested in the visual content of these images and not with the information itself. As Marshall McLuhan said: the medium is the message."
Colin has a degree in 3D Design at Newcastle Polytechnic (now University of Northumberland) from 1970. He followed a career as designer for 30 year and was a founding partner & Creative Director of design company. Colin retired in 2001 to make, exhibit and teach abstract art, most recently in Cambridge Festival of Ideas. https://colinwhitworth5.wixsite.com/mysite