'Winged'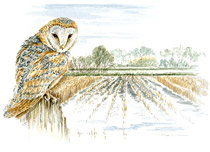 9 Oct 2012 - 12:30 pm

to

19 Oct 2012 - 11:00 am
An exhibition of original artwork, prints, cards and photographs by Ann Biggs, Valerie Sims and Jeff Harrison 
Ann Biggs is a wildlife artist with a studio at Haddenham Galleries near Ely Cambs. She works in pencil, watercolour and pen to illustrate the birds and animals that she loves. Working from sketch books that she takes where ever she goes and an extensive collection of her own photos, her paintings reflect her love of the natural world. She also accepts commissions from private individuals for pets from cats and dogs, to parrots, horses and reptiles. She has done her fair share of illustrating for groups such as the RSPCA.
Valerie Sims practises as an artist-printmaker from her studio in Cambridge, creating original hand-made prints in small limited editions. This year she has made a series of woodcuts on the theme of 'Hunter & Hunted'. Valerie is inspired by what she sees around her that links with her subject of change and loss or transition - the consequence of the passing of time or human / animal intervention.
Jeff Harrison has been photographing the UK's wildlife and landscapes for more than 35 years. During that time he has developed the necessary fieldcraft and photographic skills to get 'up close' with his wildlife subjects, enabling him to capture images of fleeting moments in time and some of the intimate details of the natural world that are difficult - or may even be impossible - to see with the naked eye. For more examples of Jeff's work please see his website
.