Unbridled Conversations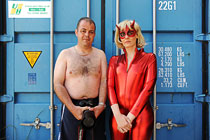 12 Feb 2012 - 1:45 pm

to

25 Feb 2012 - 12:00 pm
Photography by Colin Hampden-White 
Colin is intrigued by the question: nature or nurture? He is adopted and, in his late teens, learned that his birth parents were an artist and a concert pianist. This discovery led to a desire to explore the relationship that people have with the place they inhabit: at home, at work, or in the local area. His photographs open up the fault-lines between subject and environment to reveal the space in which identity is created.
Colin's style is strongly narrative, with minimal interaction between subject and viewer. His pictures are intensely personal, yet freighted with strangeness, playing on the tension between familiarity and absurdity, convention and innovation. His work is imaginative, intuitive and has an honesty which is rarely found elsewhere.
See the exhibition website. The King's Art Centre is on 'A' staircase, which is the first door on the left as you enter the Front Court of the college. Exhibitions at the centre are open to the public 11am to 5pm daily, and entry is free.
Biography
Colin's obsession with photography started in his early teens. He spent much of his youth experimenting with cameras of different formats.
Colin is inspired by people, and the environment they inhabit. He has been strongly influenced by the diverse cultures in which he has lived and travelled. As a child, Colin lived in Sudan in the years immediately preceding the civil war. He returned to live in Africa again in his late teens and early twenties, when he spent time amongst the different tribes in Kenya. He was fascinated by the ordinary, everyday people, especially those living in and around Nairobi.
Scottish by descent, Colin's artistic path has been unconventional. His parents initially persuaded him to pursue a traditional path and he trained as a quantity surveyor. However, he rapidly realised that his strengths lay elsewhere and he eventually broke away to follow his instincts as a photographer.
Moving to Glasgow, he fed his love of music and the dramatic arts in the theatres and clubs. Much of his later work reflects on his experiences during this period: the ebb and flow of city life, and the familiarity of people and things seen every day.
In 2001 he took his amateur portfolio to Tony Marsh, a picture editor at Scotsman publications, who offered him work on the spot. There he received some of his first professional training, including from award-winning photographers Ian Rutherford and Neil Hanna.
Two years later, Colin took another important step and moved to London where he worked with newspapers including the Financial Times and the Times, specialising in portraiture.
Subsequently he moved away from photo journalism to enable him to have more time to photograph subjects of his own. By 2008 he had produced a body of fine art photography and was discovered by Rebecca Hossack, the well-known contemporary art gallerist.
Hossack gave him his first London solo show in February 2009; his work is now exhibited all over the UK and internationally including the National Portrait Gallery; January/February 2012 sees his first solo show in New York.
As well as producing fine art photography, Colin continues to work for Condé Nast, LUX and Decanter magazine.