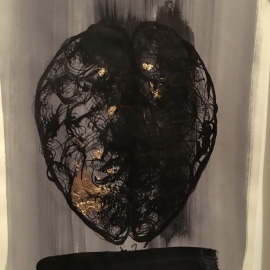 1 Feb 2018 - 10:00 am

to

16 Feb 2018 - 5:00 pm
This exhibition is a collection of recent work by Andy Ash which investigates the relationship between the brain and art making; a kind of "dialogue with my neurological self". Through a series of ink drawings, films, photographs and objects, Andy creates an installation in the Art Rooms which ask questions about the relationship between depression, (dis)connection, dyslexia and creativity. The work is interested in interior and exterior space, the individual and collective, the dark, the light and importantly the grey and how these competing aspects connect to form a way of seeing and a way of being.
Andy Ash teaches Post Graduates at University College London (UCL), Institute of Education (IOE) in the Art, Design & Museology Dept. As an artist teacher he is interested in Visual Art Practice as Research and collaborations between artists and scientists, and how their conversations can generate new knowledge. He plans to use the exhibition as a hosted space for display and conversation, much like the 17th and 18th Century 'Salon' which functions as an opportunity to engage in (thereby generating) dialogue between artists, scientists, and educators. He has planned a series of workshops and discussions during the exhibition for King's Members (dates to be announced), which raise questions of personally situated knowledge production as a research strategy that crosses the disciplinary boundaries of art and science.
For more information please contact: andrew.ash@ucl.ac.uk