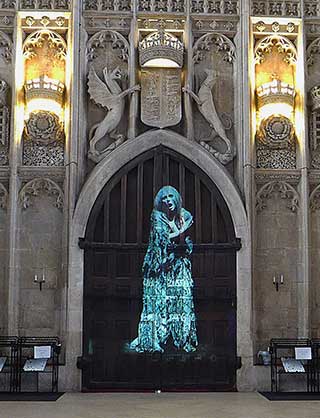 2 Nov 2015 - 7:30 pm

to

4 Nov 2015 - 12:00 pm
King's will be holding a multimedia event in the Chapel from 2-4 November and also 6 November, which will run from 8pm to 9pm each day.
Samuel Beckett in dialogue with King's College Chapel is a multi-media event curated by Peter de Bolla and Christopher Prendergast in the context of the 2015 commemorative events to mark the 500th anniversary of the completion of the Chapel.
Why Samuel Beckett and King's Chapel? The rationale is an artistic one. The event is not conceived as a representation of Beckett's work, but more as a strange yet creative marriage of two otherwise very disparate contexts - Beckett materials in dialogue with the materials of the Chapel building, stone, wood, space, volume, dark and light. Beckett is fundamentally about light and dark, shades and textures, figures trembling on the edge of the spectral. There is much desolation in this ghostly imagery, but also mystery, courage and, if not wonder, then wondering. It is our belief that the resources and dimensions of the chapel itself lend themselves to a natural and fruitful interaction with these aspects of Beckett's imagined world.
The centerpiece of the event is varied projections of the photography of John Haynes, the renowned theatre photographer at the Royal Court in the heyday of its great Beckett productions, some directed by Beckett himself. The projections are embedded in a complex audio and video environment involving image, voice, music, sound and text. Former artist-in-residence, David Ward, will be contributing two new works.
The event will take place in the Ante-Chapel November 2-4 inclusive and also on November 6, 8-9 pm. It is not conceived as an 'exhibition' in the standard sense of the display of fixed items, but more as a performance unfolding in successive parts across the hour. Ticket-holders must be seated no later than 7.50 pm.
It will be followed on 7 November at 8.30 pm by a concert featuring the pianist-composer John Tilbury, who will play on both organ and piano some of his pieces inspired by and based on Beckett texts. Ticket-holders must be seated by 8.15 pm.
Tickets can be purchased directly from the King's College Visitor Centre, King's Parade, Cambridge (01223 769340) or the online shop.