Richard Hickman: Paintings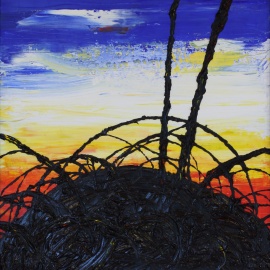 2 Nov 2016 - 10:00 am

to

28 Nov 2016 - 5:00 pm
Artist's Statement on Ekphrasis
All of the works exhibited were completed within the last year. In the context of Richard's exhibition, the term ekphrasis [εκφρασις] is used to refer to the act of producing paintings inspired by poetry and song. I seek to reify the sometimes profound and in any case ineffable messages contained in a diverse range of poems, all of which have some significance to me.
The sale of the paintings is in aid of Footage Foundation; this charity was founded by PhD students and colleagues from Cambridge University in 2008. While having a commitment to educational, cultural, and social initiatives, it aims to inspire young people to be active participants in changing their local and global communities.
A few biographical notes
After a Foundation year in Warwickshire in 1969, Richard attended Nottingham school of art, graduating with a commendation in 1973; his first position was as an illustrator at Wollaton Hall natural history museum. He eventually joined academia in 1985 as a lecturer in art & design education at Reading University, moving to Cambridge in 1997. He is currently Dean of Homerton College and Professor of Aesthetic Development at Cambridge University.