Resilience – David MacDougall – Images from a New Delhi Children's Shelter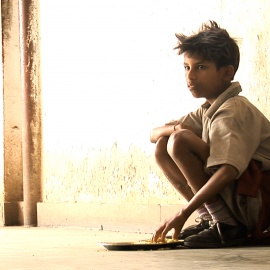 11 Feb 2017 - 10:00 am

to

12 Mar 2017 - 5:00 pm
David MacDougall, one of the world's most distinguished ethnographic and documentary film-makers, is renowned for films that evoke the sensory feel of everyday and institutional life. His film, Gandhi's Children, goes beyond images of poverty familiar from photo-journalism, presenting the knowledge and resilience of individual boys, and the rituals and rhythms of the institution they inhabit.
King's College is delighted to show photographic stills from Gandhi's Children.  There will be a full programme of events and screenings with Professor MacDougall from 9th to 11th March 2017. Details to be announced in February. Please email Nigel Meager for more information:nrm32@cam.ac.uk .
About Gandhi's Children 
A monolithic building on the outskirts of Delhi provides food and shelter for 350 boys. Some are orphans, some have been abandoned, others have run away from home. About half are held under a court order, having been picked up for petty crimes. Living at the institution for several months, MacDougall explores its routines and the varied experiences of several boys. Despite the harshness of their lives, many show remarkable strength of character, knowledge, and resilience.