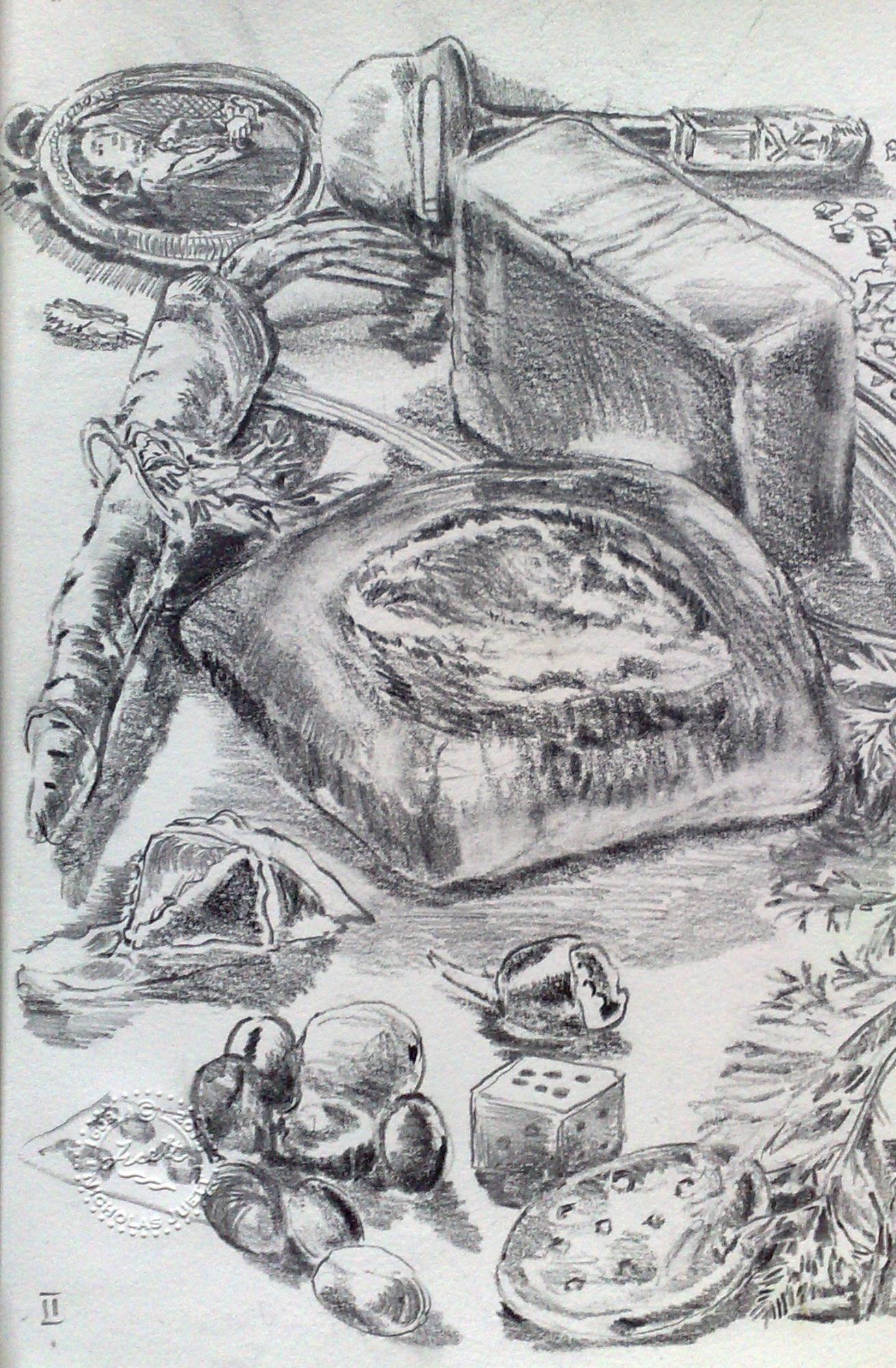 1 Feb 2016 - 12:00 pm

to

25 Feb 2016 - 12:00 pm
Recent oils and working drawings by Nicholas James Juett
Artist's Statement
This exhibition covers Juett's voyage of discovery after finding a journal kept by his namesake Robert Juett from the sixteen hundreds. The modern day Cambridge artist, Nicholas Juett, was surprised to discover the journal while visiting Cambridge University library where he looked up 'Juett' in their books of old newspaper-clippings.
The discovered journal covers Robert Juett's travels with Henry Hudson on long searches for the Northwest Passage to China. Inspired, Nick Juett's artist's research has been a journey in pencil, charcoal and vivid oil paintings through aspects of seventeenth century life, travel, politics and food. Juett, N. hopes work shares the mood and character of Juett, R.'s time.
Ships are often the subject for conventional treatment in art, but in disregarding tradition, Nicholas' work shows us the humdrum paraphernalia of shipboard life: we see huge cheeses left carelessly lying among tools and rope work; we are shown an icy outer world through the exploded side of the ship; and in an echo of the bizarre sight the ship must have presented to the native Americans on the coast of Nova Scotia and to the Inuit in Newfoundland, we also see strangely proportioned barques sailing down the River Cam.
Nick plans to pursue further ways of conveying the Arctic experience, exploring the region without leaving the artist's studio. His creative response helps give a picture of early seafaring through his research in books, the Internet and gathering information from maritime museums on trips to Amsterdam, London and Lisbon. Reading historical references of the time (not just in pictures) and learning about later expeditions archived at the Polar Institute, has a part to play in a more modern visual response to the early 17th century in this show in King's College Cambridge Art Rooms.
Exhibited a few flights up Staircase 'A' at King's and facing the chapel, the artist will include his research work-books as part of an installation of ideas to share his contemporary work-practice. To enhance this methodology he will be offering workshops to help launch future exhibits and public participation both here and abroad.
Workshop
The artist will show his thought process through an installation of traditional format, alongside clues found in working sketchbooks. These ideas will be explored through a series of workshops for King's fellows, students, and staff on Saturday afternoons through the show.
Biographical notes
Born in Cambridge, Nicholas studied at the Cambridge School of Art (CCAT), now Anglia Ruskin University.  He then went on to study as an undergraduate art student at Reading University. As a Rotary Scholar, he had a fourteen-year career in the States, which included studies at the School of The Art Institute of Chicago (Post-Bacc & MA).  A travelling scholarship took him to Los Angeles where he worked in an art gallery. Nicholas has had the pleasure of exhibiting alongside the likes of David Hockney, John Baldessari and Andy Warhol.
More about Nicholas Juett and his art
Williams Art in the show titled '21' from 2001 and catalogued on-line: http://www.williamsart.co.uk/Williams_Art/Nicholas_Juett_21.html
An artist residency at Wysing Arts Centre, Bourn, became the focus for his studio practice.  Moving back to the UK in 2002, he set about re-interpreting personally iconic locations, a series of street façades around Cambridge.
Over time these evolved and morphed into architectural types resituated into landscape, and on an epic scale. Nicholas's Cambridge paintings represented the city of Cambridge in the twin city of Szeged in 2010. To view the museum installation captured in 360 degree panoramic please visit: http://www.williamsart.co.uk/Williams_Art/Nicholas_Juett_Szeged.html
In 2005, a Post-Graduate Certificate of Education (PGCE) course at Cambridge University provided Nick with an art teaching qualification from the Faculty of Education. His time is now divided between working as an artist and as a teacher at both secondary and primary level.
Select exhibitions – solo and group
Marshall's International Airport, Cambridge (2015); Picasso Gallery, Washington DC & Mandel Group, Milwaukee (2011-12); Meller Merceux Gallery, Oxford (2011); Williams Art, Cambridge (2011); Reok Museum of Contemporary Art, Szeged (2010); i2Gallery, Saffron Walden (2009); Primavera (2008); Wysing Arts Centre, Bourn (2008); Broughton House Gallery, Cambridge (2007); RAC, London (2006); Byard Art, Cambridge (2005); Kettle's Yard, Cambridge (2004); Salon des Arts, London (2004); Royal Opera House, London (2003); Ace Gallery, New York (2002); Museum of Modern & Contemporary Art, Rijeka (2001); Miroslav Kraljevic Gallery, Zagreb (2000); Alternative Museum, New York (1998); Lyons Wier Gallery, Chicago (1993); Painting Center, New York (1993); Ace Gallery, Los Angeles (1990); New Ashgate Gallery, Farnham (1987); University Art Gallery, Reading (1985); Caius College Gallery, Cambridge (1982).
Gallery: http://www.williamsart.co.uk/Williams_Art/Two_Juetts_gallery.html
Twitter: #juett1609
Sponsor: Language Testing 123 ArtsLink: http://www.lt123.co.uk/