Life drawings from King's Thursday evening sessions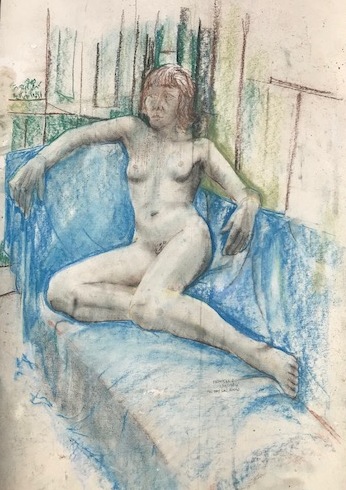 4 Aug 2018 - 9:00 am

to

8 Sep 2018 - 4:00 pm
Life drawings from King's Thursday evening sessions - to 4th August and 20th August - 8th September
Exhibition details and a brief history of the long standing Thursday evening life drawing sessions at King's.
It is with great pleasure that this summer the Art Rooms are displaying work by a small groups of artists, who are the current representatives of a long standing tradition at King's – life drawing on Thursday evenings. This was originally, in the 1970s, a Graduates' Society initiative. Dennis Goldsmith, who now coordinates the Thursday sessions, shares some of the history of this after talking with Quin Hollick, who has been drawing in the Art Rooms most Thursday evenings for over thirty years. Dennis writes this brief account:
"This exhibition is a first in the Art Room dedicated to Graduate Society Life Drawing works. Artists' works, as displayed in two separate shows, are part historical (from 1970's) but also from more recent years. The artists represented include: Quin Hollick, Richard Baker and Harry Gray.
Reminiscences from discussions with Quin Hollick –
Early in 1970's was how this started, as a Graduate Society Activity with intention to meet in the 'GradPad' but no suitable room could be found to host it. At the time, King's College had an available spare room, which was kindly offered (present Art Room). Life drawing sessions were first set up in this room on Thursday evenings by June Robinson who was then a lecturer at Cambridge Art and Technology – now Anglia Ruskin. Richard Baker remembers drawing as early as 1974.
Following June Robinson's retirement, Roy Watson and Richard Baker presided, and Quin Hollick (who cycled in weekly) took over the organisation in the early 1980's. This continued with the blessing of the then Vice Provost, and became established as a tradition with fifty weekly sessions a year.
Past and visiting scholars would know they could drop in on a Thursday evening, knowing there is always life drawing. Quin recounts that during one winter, the model Johnny Fisher posed in almost sub-zero temperatures during building repairs, with scaffolding through the windows.
The impetus grew. Later on, on a Sunday, an all-day life drawing session was arranged in King's Art Room, which spawned Bottisham Life Drawing at weekends.  After a while, another life drawing session on Wednesday evenings was also established.
Various artists in residence have actively maintained the importance of Art within the College, and this Art Room is now firmly established with regular exhibitions at present arranged by Nigel Meager.
About 2 years ago Quin Hollick retired after 32 years, and I took over with assistance from Mike Roe and Harry Gray, to continue this tradition.
Many past scholars have attended as well as the regulars. Thursday evening drawing sessions continues a tradition of providing life drawing for past and present scholars. It is an example of King's College generosity in reaching out to graduates, not only in Cambridge, but worldwide.
This exhibition is a first dedicated Exhibition of Graduate Society Life Drawing works in the Art Room. Artists' works, as displayed in two separate Shows, are part historical from 1970's and the more recent years, including works by Quin Hollick, Richard Baker, Harry Gray."
Please email Nigel Meager nrm32@cam.ac.uk if you would like more information.