King's Connections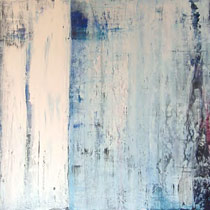 4 Mar 2012 - 12:00 pm

to

17 Mar 2012 - 12:00 pm
An exhibition of work by four local artists 
'King's connections' is an exhibition featuring the work of four local artists, all formerly art teachers at the King's School, Ely. All four are now free to focus on their own art practice and although their work is seemingly quite diverse in subject and application, connections can be seen within their approach. The varied range of media they use reflects their environment and the surface qualities they observe. All four are concerned with texture, detail and surface and particular elements of this can be seen echoed throughout their work.
Terry Beard
An integral part of work is that it is non-representational in a direct sense, leaving the interpretation of the work up to the viewer. Some of the work is made as a direct response to observed elements in the world around her, while her use of colour has been informed to some extent by a childhood spent in Africa.Terry's work is concerned with creating a sense of depth and form through the use of colour and colour relationships.
She uses various media to achieve her aims, including acrylics, mono-printing and collage. She has exhibited widely and has work in numerous private and corporate collections.
Natalie McIntyre
'My work is mainly concerned with the symbolic and aesthetic value of insects. They have limitless diversity in terms of their shape, colour and texture and when studying their physiognomy at close range, they can appear both monstrous and beautiful.Natalie approaches insects with a scientific eye and draws every detail with meticulous accuracy.
To execute these meticulous studies I am employing the traditions of natural history illustration and the scientific depiction of insects. I am also interested in a wider range of zoological specimens and I am fascinated with the way in which museums classify and display their historical finds.'
Stephen Murfitt
The forms are mainly hand-built and altered by a range of techniques. This process creates significant marks and textures, which are enhanced and revealed by the subsequent use of glaze and oxides.Stephens' work is concerned with the exploration of form and surface, which evolves through a gradual process of hand-building and refinement. Influences are diverse and come from the natural and built environment.
The work is all Raku fired, and smoked and carbonated areas of the clay, resulting from the post-firing reduction, are left exposed to form a contrast with the glazed surfaces. Stephen's ceramics have been exhibited widely and are held in many private and public collections. Corporate clients have included: Coopers and Lybrand, Lovells, the international law firm and The Royal Bank of Scotland, all based in London. Author of The Glaze Book, published by Thames and Hudson in 2002.
Stuart Green
Seeing the world literally from many different perspectives encouraged new approaches and experimentation.Since 1981, when he moved to Ely, Stuart has exhibited all over East Anglia both in solo and group shows. He has also exhibited in Germany and has work in private collections both in Europe and Australia. A teaching exchange in Australia dramatically changed his way of working.
"By inclination I am a painter of landscape. At times I will record simply for the enjoyment of being in a particular place and at other times I will search more deeply for the marks that both man and nature have made. It is through this search that I find the colours, patterns, textures and forms that are the roots of my work."