King's Chapel Angels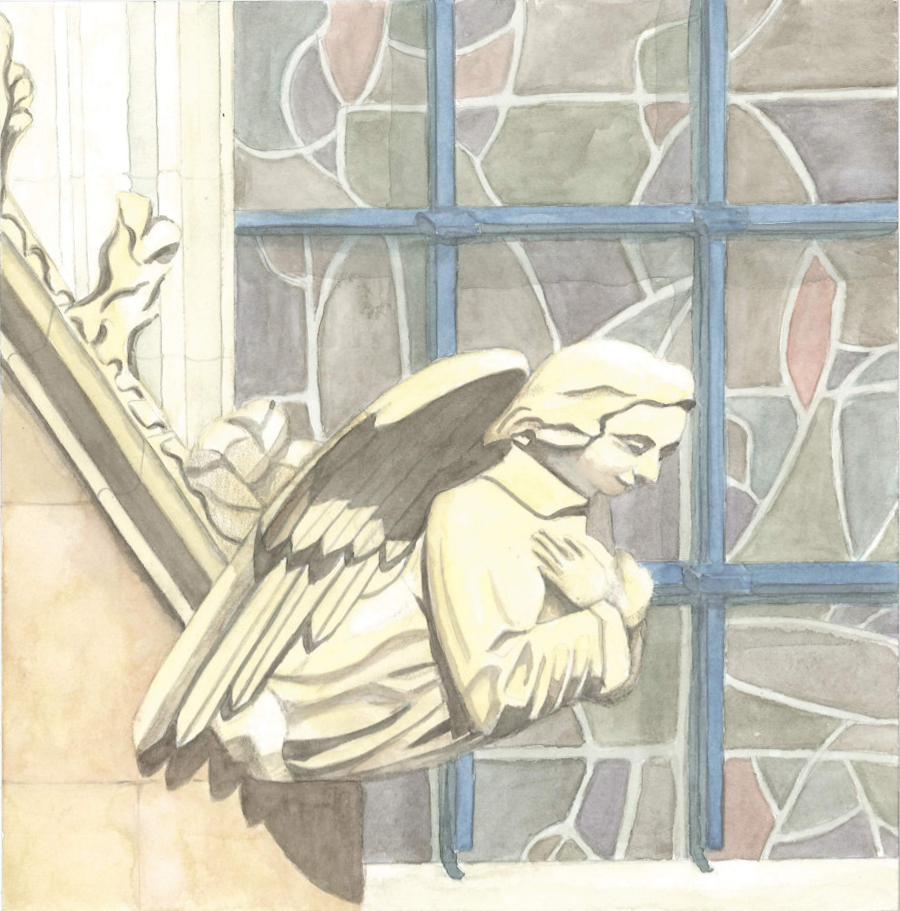 28 Nov 2015 - 12:30 pm

to

24 Dec 2015 - 12:30 pm
Recent paintings by Jean Bacon at King's Art Centre, King's College
Artist's Statement
In the Easter term 2015, Nigel Meager, the Art Teacher at King's, started weekly visual art workshops. One explored drawing, and an exercise was to focus on a fragment of the chapel architecture.
I had always admired Ruskin's drawings of architecture and decided to continue this theme as a summer project, a new subject for me.
Ken Moody and I took photographs of details of the chapel exterior. On blowing up the images I found the angels high up on the chapel sides (some, alas, are badly eroded).
I drew and painted (pencil and watercolour, a little pastel) through the summer, exploring how to combine architectural features into a composition. I have made no attempt to achieve a particular coherent perspective.
Later, Ken was able to photograph two of the angels from the balcony of the Gibbs building. This view is from a little above their level.
The work on show is very much work-in-progress, with different approaches still to be explored. I've come to think of the angels as long-enduring guardians, exposed to the elements. I should love to know who designed and created them. To view some of the angels I have painted visit:
http://www.cl.cam.ac.uk/~jmb25/Angels/
I have had exhibitions in the Art centre in 2005 and 2008:
http://www.cl.cam.ac.uk/~km10/JMB-Exhibition-2005/
http://www.cl.cam.ac.uk/~km10/JMB-Exhibition-2008/
Thanks to Ken Moody for the websites.
Workshop – getting to know the King's Chapel angels, 28 November
There will be a Saturday afternoon event and workshop on 28 November. This will combine: a more in depth look at the angels in situ with an art historical perspective led by Christina Farley; an observational drawing activity designed to help participants look more carefully at the angels; and a discussion in the Art Rooms of the art work together with artistic and art historical approaches to understanding the angels. Please look out for more details nearer the event.
Biographical note
Jean retired as a Professor in the Computer Laboratory in 2014 and now works on her research there as an Emeritus Professor. She is also an Emeritus Fellow of Jesus College. From schooldays, she has carried on informally as an artist, while following a career in science. On coming to Cambridge she found the King's Art Centre to be somewhere she could paint, draw and exhibit – a wonderful resource.